April is gonna be a big month…and no it's not just because Prince William and Kate are getting married!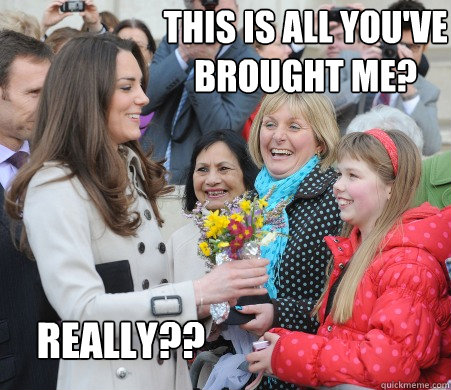 There's been a lot of talk floating around by certain people who simply don't understand the big hoopla surrounding the Royal Wedding.
HelloooOo? What don't you understand?
Let me set the record straight–these are royal people, people! They are not commoners like you and me! They wear crowns and drink tea and say things like "lovely."
Kate is a modern day Cinderella…you know, if Cinderella's parents were self-made millionaires–but you get the picture!
And Kate–why, yes, we are on a first-name basis–is only 2 years older than me! SO by the rules of six degrees of separation that technically means, I could have married Prince William! And I would be a princess. And you would all have to bow down and say "Your highness." But I would be a cool princess, don't you worry.
The point is…royal weddings are cool. And since Charles and Di got married like forever ago, this is the royal wedding of MY generation.
And I am totally planning an April 29th Wedding Party with tea and crumpets (what is a crumpet, anyway?) and everyone will have to bring their best tiara (what do you mean you only have one tiara?) and speak in their best English accent. Because we sound so much more proper that way.
Speaking of tiaras…there's another national holiday this month.
My Birthday!
I take birthdays very seriously. I even celebrated my half-birthday one year, because one birthday celebration a year is just not enough to celebrate SO.MUCH.AWESOMENESS.
But last year– my 26th Birthday– was only 3 weeks apart from the craziness of our wedding (which also only took 3 weeks to plan). I think I was also sick on my birthday…I don't really remember. <– proof I'm getting old
But this year, lucky number 27!, is coming back with a vengeance and I've got a hole whole bag of goodies wrapped up my sleeve, including a massive house party followed by a Newport Beach pub crawl (if we make it that far…).
Since our love shack is mighty too small to house the total amount of debauchery and awesomeness we plan to have–my friend, whose birthday happens to be 3 days after mine, is co-joining for a DUO April Birthday Bash. And of course, we plan to honor the decade we were born…the 80′s.
Big hair, hot pink leggings, leg warmers and scrunchies–tell me again why the 80′s went out of style?
I have a secret to tell you…shh…come closer…let me whisper it to you…
I'm really, really scared I will fall asleep by the time the party starts.
Ugh, I know, right? What am I talking about? But you all know I'm secretly a 40-something-year-old stuck in this 20-something-year-old's body! I go to bed by 10! (Proof!)
I'm gonna do my best, guys…take a nap, drink some Red Bull, gotta take one for the team, right?
I guess I"m just not as hip as my younger 25-year-old days…