After our little home post, I know what you were all wondering–how could this supposedly 'poor' couple move into a two-bedroom townhome and furnish it when all they owned beforehand was a couch and a bed?
The entire amount we've spent so far, out of our own pocket, is $700. We were also extremely fortunate to receive a $500 housewarming gift from my grandma, to be used specifically for our home. So this is what we purchased with a $1200 budget:
In the Dining Room
A new (to us) dining table: $250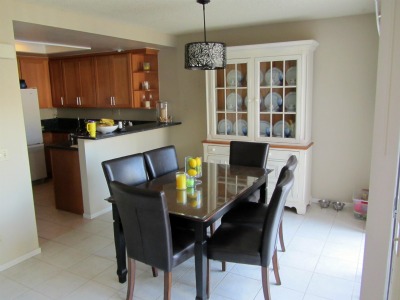 I fell in love with this seven piece dining set that we found on Craigslist. I knew I wanted six chairs instead of four, because I love to have friends over for dinner, and there never seem to be enough chairs to go around!
This set was listed on Craigslist for $500. I sent an email and low-balled at $200 which really was our budget for a dining table. We ended up settling for $250 and I was thrilled! There are a few paint marks on the chairs, which will easily come off with paint thinner, we just haven't gotten around to it. The table set also came with a custom glass top.
Metal Chandelier $100 (from the Grandma fund):
The chandelier in the dining room was a dinky old thing and I knew I wanted to replace it. This was one of those purchases that I wouldn't have made if my Granda hadn't gifted us with $500. This chandelier totally brightens the place up, don't you think so?
BEFORE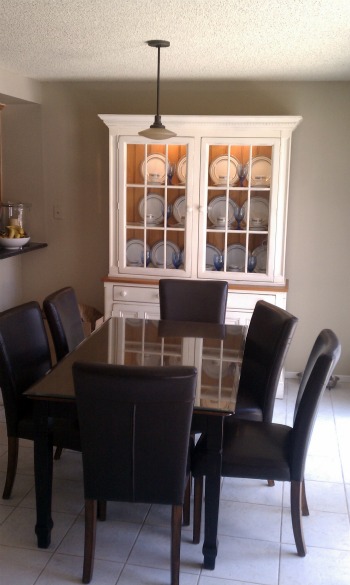 White hutch $0:
The beautiful white hutch in the background is a hand-me-down from my mother-in-law. She actually gave it to us while we were living in the shack. I had originally told her we couldn't take it because holy cow, where would we put it? But I absolutely LOVED the piece, so I made Eric rearrange the whole downstairs of our shack so we could make it fit. And I am SO glad I did, because now it is an absolute showstopper!
It simply housed storage at our old place, but now I can actually showcase the fine china my parents gifted me as a wedding present.
In the Living Room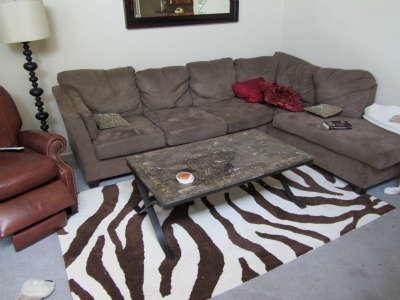 A new (to us) couch: $150
Even though I was fine with our old couch, I knew it wasn't going to be big enough for our new space. I started browsing couches on Craigslist, and fell in love with the idea of a large sectional–perfect for hosting friends and family! We found this one listed for $200, and offered $150.
It's super comfortable and we love lounging on it!
Marble top coffee table: $0
This was my parents' old coffee table that was sitting in the garage. Once we moved, we realized our little red coffee table purchased off Craigslist two years ago for $15 wasn't going to do our new place justice.
We really wanted a circular coffee table to help reduce the whole "square-y" thing going on, but beggars can't be choosers, and this is a really nice coffee table (even if it does have a few water stains on it).
Brown Zebra Rug (from the Grandma fund): $297
I am not a fan of the grayish carpet. I thought a rug would really help brighten up the place. My mom suggested this zebra rug and though I was apprehensive at first, I really love it now!
Brown Mirror: $100
We purchased the brown mirror above the couch for $100 from the same couple who sold us the dining set. It's a solid piece, and I knew I just had to have it.
In the master bedroom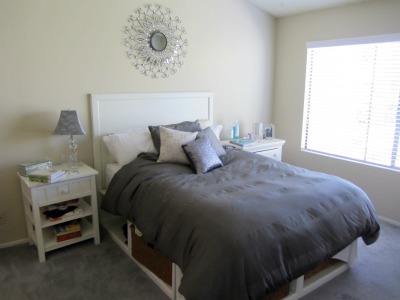 Everything in the master was pretty much ours mine from beforehand. The reason our master is so girly is because it's all my furniture from when I was single. Unfortunately, Eric just has to put up with it because I have no desire to get rid of my $2,000 Pottery Barn bed. Yes, that is what I paid for this bed when I bought it back in 2008. Those were my pre- "pay down debt" days…
Sunburst Mirror (from the Grandma fund): $100
The only thing we purchased for this room is the mirror you see above the bed–and that was a Joss and Main purchase. This is an up close shot so you can see the detail: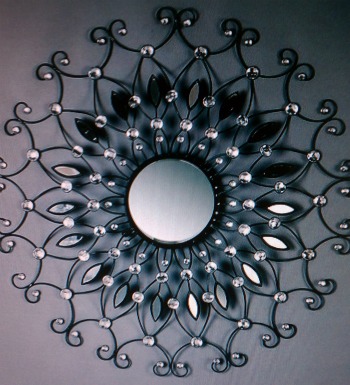 In the Man Room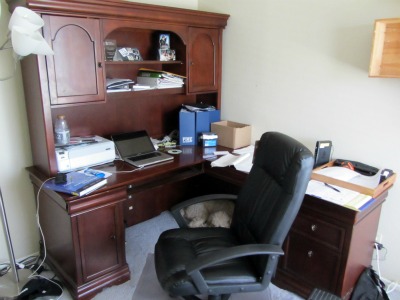 Desk: $150
We bought this large solid oak desk off Craigslist, originally listed at $200, we offered $150. It's a great piece, and Eric really wanted a desk to study for all his fire exams.
Desk Chair (from the Grandma fund): $80
We got the desk chair at Office Depot. It was the floor model, so we got 20% off.
TOTAL: $1230
Out of Pocket: $730
Grandma: $500
And yes it has all been paid in cash! We pretty much bought the big ticket items ourselves, but we were really able to splurge for a few pieces because of the gift from my Grandma. There are a few things I still plan to do–like curtains and some table lamps.
While yes, I would LOVE to have brand new furniture, it just isn't feasible for us right now. Plus I'd rather save for the really nice stuff when we buy a new place, rather than rent. This suffices for now and I don't think it's that shabby!
Everything is slowly but surely coming together. And I love that we are sticking to our budget to do so!