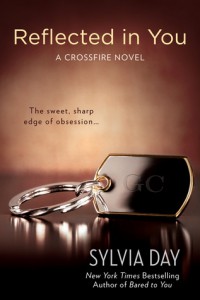 The latest book in the Crossfire series by Sylvia Day, Reflected in You bares strong resemblance to another popular sex-deprived mommy series, 50 Shades of Grey. Likes it predecessor, it's billed as erotic romance.
While I admit that these books just don't appear to be my cup of tea, for some reason, other women must really love them because they keep topping several best seller's lists.
Reflected in You picks right up where the first book, Bared to You (she likes to change the titles dramatically, huh?), left off. The novel continues the love affair between Eva Tramell and Gideon Cross, who work in the same office building and just happen to have loads of money. If only we could all be so lucky…did I mention they're ridiculously attractive too? Of course, they can't be too prefect, and both have to face their inner demons, which really just makes me think "really? That's all you've got?"
This happened to be the latest pick in the BlogHer book club choice, and with the series pertaining largely to a female demographic, it's easy to see why BlogHer would be a good choice to review the books. However, as much as I love trashy gossip and crappy reality television–when it comes to books, I really want something savory and meaty and this failed on both counts. I felt like I had to force myself to read it at night and it wasn't the type of thing that really grabs my attention.I like to read at night, and if I really want to get turned on, I'm going to lean toward my husband not the pages of a book. Back me up somebody?
This is a paid review for BlogHer Book Club but the opinions expressed are my own.