The first time I tried organic peanut butter, I knew it wasn't for me. It was all watery and didn't have that yummy hydrogenated oil taste to it. No thanks, pass the Skippy.
But that was last week. This week, I was all, "I can't say no to organic! I need to try, try, try again." I wanted to eat healthy (still trying to do that 140 goal by the end of this month) and wanted to try and stay away from processed foods as much as possible. So I gave the organic peanut butter another try, and another…and basically all week for breakfast I've been having a banana with one tablespoon of organic peanut butter. And you know what?? I'm usually full for a good four or five hours!
Sometimes I start to get a little hungry and I sip on green tea and chug some water. And other times, I supplement my breakfast with two boiled egg whites (I don't like the yolk, which is good because it's the fatty cholesterol part).
But last night…Last night was the first time EVER that I had a full home-cooked organic meal. I've done Native Foods and Avanti Cafe–both are FABULOUS–but I've never actually purchased organic meat before.
Well, because we're Newlyweds on a Budget, we don't have a lot of cash to spend on expensive hormone-free grass-fed beef or organic chicken so, we do the budget-friendly thing and buy the chicken that is 50% off for quick sale (because it's going to go bad soon) then we take it home and freeze it for when we're ready to eat it. Fabulous, right?
Well, it would be awesome if we didn't have to freeze it, but small steps, right?
Then we used the organic produce from our very first Farm Fresh to You box, and made this SUPER AWESOME meal last night: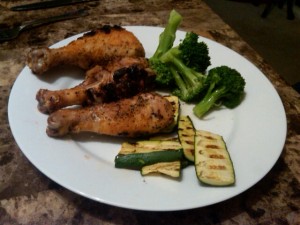 (the hubby had three legs, I had two…)
(hehe, I just realized that could be dirty…)
(what? just me?)
It was honestly some of the BEST chicken I've ever had. We usually have chicken breast, but this is what was on sale. And since we're on a budget, we eat whatever is on sale. All we Eric used for seasoning was some Lawry's salt and pepper (I don't think Lawry's is organic…but we'll use what we have until we run out, then switch to organic seasonings).
Yay for us. We'll see what else comes up on the menu…