I used to hate blog giveaways and thought they were a stupid waste of a blog post. My rationale was that I had entered a few and had never won anything so obviously they didn't work.
But then, my bloggy friend, Cammy Confessions, hosted one and I won! And I was hooked. I entered every giveaway that came my way. I've lost a lot, but I've also won two! And since blog giveaways are a lot smaller than, say, the lottery, your chances of winning are a lot bigger!
My most recent win was from Living Well, Spending Less. Look at all this cool stuff I got! I saved a ton of money by not having to buy all these household supplies! And AirWick spray thingy? Absolutely LOVE it!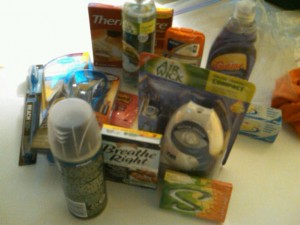 And the best part is, she hosts a weekly giveaway! And you can win more than once. So hop on over there…
Cammy is hosting another giveaway this week, and it's for ASSETS! The more inexpensive, yet still high-quality, version of SPANX!
I also just entered The Life Accounts giveaway for a $100 gift card to ShopBop! Which I totally want to win! I'm crossing my fingers…momma needs a new pair of jeans!
I'll have to come up with a really good giveaway…I don't think anyone would be interested in getting some homebaked cookies huh? Any sponsors out there want to host my giveaway? Helloooo?