So Eric and I did something that we haven't done in about 4 months. We actually sat down and had a discussion about our finances and decided on our budget together.
Normally, what would happen, is I would come up with the budget, and then send weekly emails to Eric letting him know how we were doing. This seemed to be working for us, until I kept looking at our budget every month and realizing it actually wasn't working for us. So why not try something new?
So here is the breakdown of our budget in October and where every single penny went.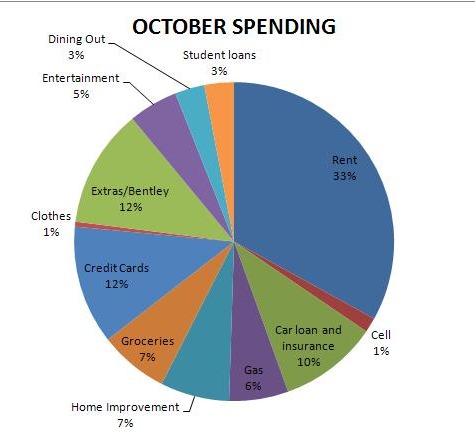 Now, it may seem that our rent pretty much stayed the same, but the reality is that our income in October was the highest ever, and we just spent a lot everywhere else, so that's why it's still 33% even though on a normal budget, our rent would have been about 50% because of how much we really had to pay for both apartments. Plus Home improvement projects for our new place also took another chunk of money.
Although now we're done with bills from the old place! (I hope!) And November, is an awesome three-paycheck month for me! (I get paid on Wednesdays…and I am counting Dec. 1 as part of this month's salary!)
SO this is what we decided upon for our budget in November: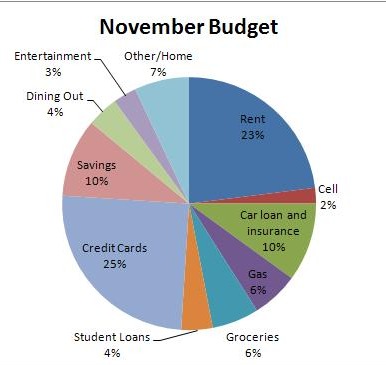 The best part about this month's budget is that we're now dividing it upon paycheck cycles as well. Before, we'd start off the month with all this money and by the time the third week rolled around, we were broke! By allotting ourselves a certain amount of money for each week, we hope to stick to a tighter budget.
ALSO–I am only including our take-home pay from our normal jobs. My freelance work is expected to bring in a VERY pretty penny this month, but we have decided to allot that money for 1.  gym membership for me (my jeans will thank me for it!) 2. new TV (possibly) 3. Christmas presents (I had been worrying about this! Two families=double the presents!)  4) Savings and/or debt.
Andddddd….the debt.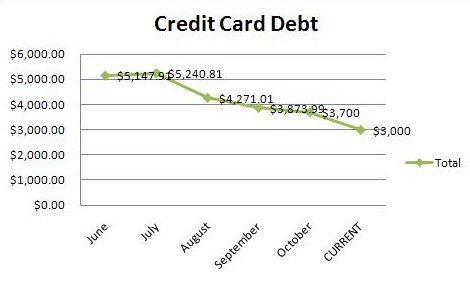 So originally, when I wrote this post, we were on track to be at $2500 for this month…and then I broke my dog's foot, and we got the exit bill from our old apartment. I was totally bummed…and as soon as I get paid on Wednesday, we'll be back on track and I was sooo going to cheat and just say that's where we were and not tell you guys the truth…but I decided against it. Because apparently I have a problem with lying. Stupid morals.
So, $3000 it is. We're the little engine that could. And our credit-card debt-free goal (April 2, 2010) is still within reach! Any other budgets out there??? Any tips?