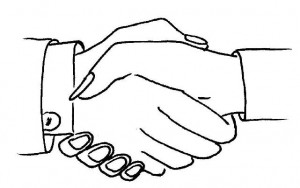 Reports claim that fighting over money is the number one cause of divorce in the United States.
The biggest arguments Eric and I have are definitely over money. I'm the saver, he's the spender.
Apparently, it is common for opposites to attract and that's why a lot of arguments occur over money—opposing views. We learned this at a "relationships and money" class we attended last week.
It was really eye-opening. It turns out Eric and I were an exact replica of the instructor and his wife, except in their case, I was the man–the responsible oldest child introvert who can handle money extremely well– and Eric was the wife, the youngest child extrovert who as soon as she gets hold of a credit card will rack up thousands of dollars in debt.
But what are you supposed to do? How can you reach your savings goals if your partner is constantly sabotaging them?
Well, it's best expressed this way: You don't give an alcoholic a bottle of vodka and expect him not to drink it. And you don't give a spender a credit card and expect him not to use it.
So it was decided off a suggestion from the instructor—I now hold all of Eric's credit cards and his ATM, and he is on a strict cash-only basis.
Isn't this kind of drastic, I thought. I mean, I'm supposed to be his wife not his mother. And shouldn't he be able to hold onto a card without using it?
No. It is wrong to assume that because I can do it, Eric can do it. We are not built the same, we do not think the same, we don't manage money the same way. But we both agree that I should manage the money completely, because as much of a spender as Eric is, he can recognize that our finances wouldn't be as good as they are if it weren't for me. Smart man.
And apparently this kind of thing–one person handling all the finances, and the other on a strict cash-only basis– works. Because what we've been doing has definitely not been working.
Remember that fun money account we started for Eric? It was grossly mismanaged. Like really bad. It caused a bit of a rift between us, but attending this money class helped us both learn. On top of Eric making sacrifices, I need to learn to loosen up a little bit. Gee, who would have ever thought that I needed to loosen up on our finances? *insert sarcasm here*
In fact, this past weekend that we spent in San Diego for our one-year anniversary (post to come soon!), I had to constantly repeat the mantra "We can afford this. We can afford this."
I no longer get angry that Eric can't seem to handle a credit card—it's part of his personality! And he doesn't mind that he is on a cash-only basis, because we increased his "allowance" and he understands the importance of building up our savings account. I also am easing off the savings account. We are still on track to save a ton of money. What's the big deal if we're off a couple hundred dollars? Wouldn't it be better that still enjoy ourselves and be off by a few hundred dollars than to be misers and incredibly unhappy with each other?
I'm hoping this new method will be the solution we need. I no longer have to worry about random charges appearing on our cards or hidden purchases that I didn't know about. And Eric has the freedom to spend his cash as he chooses without checking with me. For big purchases, we discuss it together and look at our budget and see if it aligns with our goals.
I know this may not be a great solution for others, and it may seem too restrictive to some, but we're really looking forward to trying it out this month. We've tried other options and they haven't worked for us, so maybe this is the golden ticket.
How do you and your significant other handle expenses?