So I know you're all sick of the royal wedding by now…oh you're not? Good! Me neither!
We had friends over Friday night for our Princess Party. That was the same day that my lovely husband cleaned the entire love shack top to bottom–and hijacked the blog to prove how hard he works. (Did you also spot the changed photo in the right column under "Our Little Family"? My husband…what a ham).
I was completely shocked–and thrilled!–when I came home and saw our place the cleanest it's ever been. One Ten points for the Mr.
Then while he went to go get a haircut, I turned to my wifely duties and started prepping for the party. So uh…apparently when you defrost bread rolls, and then put them on a platter to rise, you should give them space….or else they end up like this: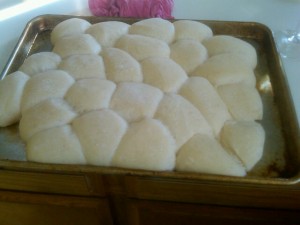 Just a tip.
After putting together some other things, it was 5:30 and decided it was definitely time for a drink (even though guests weren't supposed to arrive until 6:30). I had a little trouble getting the cork out of the bottle: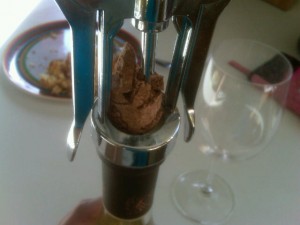 But no worries, I got that sucker out (even though it ended up in two pieces), put my tiara on my head, and I was ready for the party!
Turns out the royal wedding is a GREAT drinking game. Every time the newscasters said the words "Kate," "William," or "Royal," we had to drink. It was a lovely party.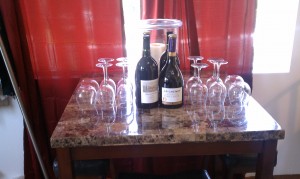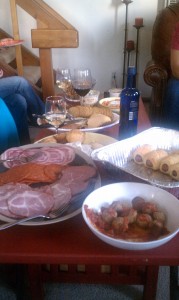 The next day Eric had to work, but I promised Bentley I would take him to the beach. It was 80 degrees and sunny–the first beach day of the summer! (Southern California Summers run from May to September. FACT.) I put on my bikini and actually felt good about it.
Then I went to the mall and spent $0 on myself even though I tried on a few things. Win for me! I spent the rest of the evening finishing The Help. Such a good book, highly recommend it!
On Sunday, Eric finally came home from work at 7 a.m. and cooked me breakfast. (another point for the Mr.). He then went to sleep, and I went to church.
The weekend ended perfectly with an impromptu trip to the beach with my little family, a steak dinner grilled on the BBQ, and fresh pineapple for dessert.
Oh and then we found out Bin Laden was dead, and it just made the weekend that much better.
How was your weekend?