Let's talk about something we haven't talked about in a while…how about the budget? 😛
In April, we made a big change to our budget. Rather than stressing myself out about paying off our card in full every month—I took the entire balance and transferred it to a 0% interest rate card.
I know, I know—that's not exactly what you're supposed to do, and how does that ensure that you won't just rack up more debt on your card??
Well, transferring to a 0% rate may not be the best thing for everyone, but it was the best thing for us. With Eric entering the fire academy and not working for four months starting in late August, I feel much safer and stable having a big cushion of savings to fall back on than worrying about being credit card debt free.
We are still making payments to this card, we don't have to worry about interest accumulating, and it will be paid off hopefully by Christmas.
As for worrying about accumulating more debt onto our credit card, Eric and I no longer carry around a credit card! And starting this month, I have pre-paid the automatic charges that go on our card anyway, such as cell phone and internet. We hope this will ensure us from not using our spare credit card.
We've come up with a pretty simple rule—if we don't have the cash, we don't buy it. Crazy, huh??? And guess what? It's been working!
That did mean that for a couple of days our fridge was pretty bare, but we managed! And as soon as we got paid, we stocked up on food and froze meat that was on sale!
April was such a great budget month for us, I'm hoping May will continue the trend. Here is our budget breakdown for the month: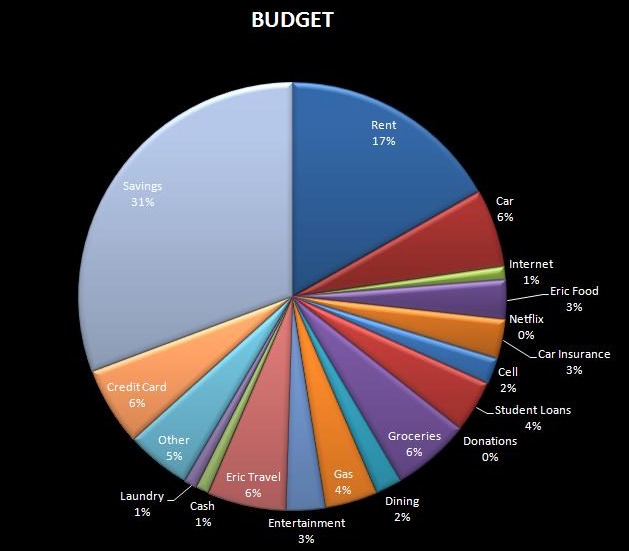 Some notables:
We saved 31% of our total income, this included a nice tax refund.
We cancelled Netflix. (do you ever feel like you have to watch every movie you get as fast as possible or else you're wasting money if you keep it for more than a couple of days? It was too stressful. Yes, I just called Netflix stressful)
Had our lowest "Other" month EVER! Only 5% of our budget went to "other," as opposed to other budgets when it ranged from 11% to 27% of our total!
We are at 83% of our $8,000 savings goal! And with three months left to go, I have a feeling we're going to hit it out of the ballpark!
Man, it feels good to be a gangsta!
How are you doing budget-wise?