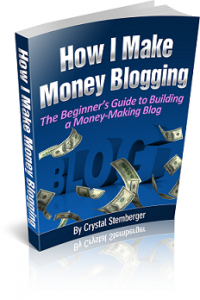 Let's be honest. None of us average folk really start a blog thinking we're going to become millionaires off of it…but it's always nice to earn some extra cash doing what you already do anyway.
I always wondered how people got those sponsored posts and how they got to host giveaways, and I always felt like making money off blogging was this sorta secret society that you weren't allowed to share unless you luckily got invited in.
So this is my invitation to you!
All my secrets as to how I make money online.
You won't be able to quit your day job, but maybe you'll be able to afford that cute blazer you've been eying, just like I did!
How to Make Money Blogging
The number one way I make money blogging is by selling advertising. This is through Google ads, but also direct advertising. How do I acquire those advertisers? The answer is simple– I learned from another blogger.
And now she's giving away all her secrets in her e-book: How I Make Money Blogging. In her e-book, you learn all the tricks and secrets on making money with advertisers through your blog. She is the reason I went from making a few dollars a month on Adsense, to consistently making over $1,000 a month in blog income alone.
More Ways to Make Money Through Your Blog

Inbox Dollars
 Get paid to read emails, play games, take surveys, and search the web. Plus get an automatic $5 just for signing up!
This is by far the best way to earn some extra cash in my opinion. You sign up, and are given daily "leads" to sponsor posts on your blog. Sometimes there are a lot of leads, and sometimes there are only a couple. Depending on the campaign, you can earn between 500 and 2,500 points or more. Each point is worth 1 cent. When you earn 5,000 points, you cash out through Paypal and get a hefty $50 check. Pretty spiffy, huh?
I've only done one sponsored post, and am already halfway through earning my first $50 check!
Sponsored tweets is almost identical to Social Spark except instead of blogging, you tweet! I'm not going to lie, I've only earned mere pennies, and there's something that doesn't rub me the right way of spamming people with sponsored tweets, but you can choose which tweets you send out (hence, me only earning pennies) and the frequency of them as well.
Giveaway Blogs connects companies with bloggers to host giveaways. I've had mild success, but have won a few contests worth of freebies by checking out others' giveaways! I'm all about the freebies. And right now, they're hosting a Wii giveaway to the blogger that refers the most bloggers! So sign up for free blog giveaways and tell them I referred you! ( I completely had no idea of this contest until I signed in literally two seconds ago, but figured I'd throw that in there).
This is another one of those mere pennies, but it can't hurt type of things. In the past two weeks, I've earned 34 cents. At this rate, I'll maybe earn $20 in a year? If I'm lucky, maybe? Google Adsense places text ads on your blog. The more people click on them, the more money you earn. Easy peasy.
What are some other ways you earn money blogging?
Join our newsletter
Get the latest content straight to your inbox.