With Eric's 4 a.m. wake-up time Monday thru Friday, we have a hard time sleeping in on weekends. I had Friday off from work and I found myself wide awake at 5:30 a.m. It sucks.
A week ago, we had friends over and Eric fell asleep mid-conversation! It was 9 p.m.
Well, anyway, this past weekend some friends invited us out for dinner. I think we've been out to dinner once in the past 3 months so we were really excited. Us going out on a Saturday night?!
Whoa, let's not get too crazy.
So Eric and I got there first and sat at the bar, and we ordered adult beverages. We were so proud of ourselves.
We ended up having a great time at dinner and decided to keep the night going and headed over to an adult-type Chuck-E-Cheese, called Dave and Busters.
We played pool, played basketball, ski-ball, a trivia game. We were living it up!!
Look at us and how grown up we are!
We both had left our phones in the car, but we were for sure thinking it was at least 11 p.m. I mean we had gone to the bar, gone to dinner and we must have been playing games for at least a couple of hours, right? We both hit a wall and started yawning and we told our friends, "we think it's time to go home." So Eric and I started walking to the car, and we were telling each other how proud we were that we had stayed out so late on a Saturday night. Maybe we were turning over a new leaf?
And then we get in the car, turn it on and see this: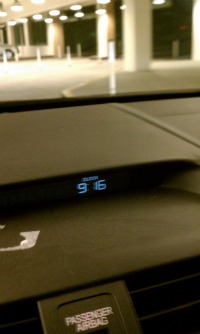 uh, did we forget to change the clocks for daylight savings?
It was honestly sad. We were exhausted. We felt like we had been out for hours. And yet, here we were, heading home on a Saturday night at 9:16 p.m. because we were ready to pass out.
I guess we're just not as cool as we thought.
Do you guys ever have "old married couple" moments?