Last week marked Week 4 of the 10-Pound Challenge, we are officially one-third of the way through.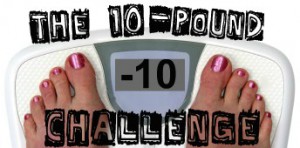 SO how's it going? As of Week 4, I have lost 3.4 pounds.
Not stellar, but at least it's some progress. I know the rules to lose weight, but sometimes it's hard to follow them. I am still running, though inconsistently. However, my 10-week half marathon training plan starts soon!
I also have committed to doing Barre class for the month of March and I will be paying for it through my side hustle income. When I did it in November, I lost 4 pounds and my jeans fit wayyyy better. I am hoping this will give me the strength I need to push through and keep losing weight.
Let's check on how others are losing weight:
Baby Spoon has lost 6.4 pounds since the 10-Pound challenge started. She is rocking it!
Heidi from Life in Pink is down 5.6 pounds! And she's doing a half-marathon in mid-April!
Don't Panic has lost 5.8 pounds since the 10-pound challenge started, and has lost a total of 35.2 pounds since September!
Leah at the Miracle Journal has been having  a hard time losing weight and dealing with a breakup so she needs some encouragement!
Find me Frugal has lost 2 pounds! And two pounds down is two pounds down. She had an injury that has prevented her from running but she hopes to pick it up again!
Diary of a Fatty McButterpants has moved out of her fat jeans! Success!
Unabashedly Me is down 5 pounds and has lost 19.2 pounds total, she's halfway to her 40-pound weightloss goal!
Four Dollar Gas has actually gained a pound…but is adamant to get back on track! Hey it happens…we've all be there.
MisFit Toyland has lost a pound! And as I told her, a pound is a pound is a pound.
Working for a Goal has lost 3 to 4 pounds. She plans on stepping it up this month, just like me!
Carly Chubby Cheeks has lost 5 pounds! And she's trying out ViSalus, anyone else tried that?
The Lost Goat has lost between 3 and 5 pounds but she won't know for sure unless she gets a new scale. But the point is, she's lost!
Head Over Heels in Debt has lost 2 pounds! Even though she claims things aren't going so well.
KJ Pugs has lost the same amount as me–3.4, way to go!
Budgeting in the Fun Stuff hasn't lost any weight but she is committed to get going!
Ms Marvel Project is down 1.2 pounds but she just joined My Fitness Pal and if you're on there, you should add her msmarvelproject to give her some more motivation!
And if you're adding her, might as well add me too at username: newlywedsbudget!
How has your weight loss been going?
As always, a BIG thank you to our sponsors for making this challenge possible!
The Money Principle
Prairie Eco-Thrifter
Budgeting in the Fun Stuff
Pinch That Penny
Bucksome Boomer
  Spring Coin
  Tight Fisted Miser