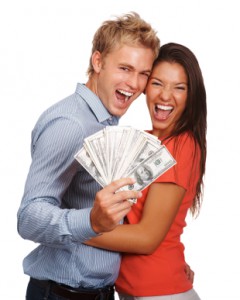 Almost two months of living at the new place, and almost every day at some point, I still turn to Eric and say "I love our new home."
Even though we're spending more on living expenses, our happiness has skyrocketed since moving out of the love shack. And let's face it–that living style was not sustainable.
I haven't felt "poor" since we moved. I can invite my friends over for dinner without feeling embarrassed. We spend so much time at home, watching DVD's, cooking and drinking wine.
The weird thing too is that even though we pay a heck of a lot more in rent and utilities, we're still managing fine financially. I haven't felt the crunch of our new increased rent at all– even with Eric out of commission for a whole month.
Perhaps it's because if we really had to, we could get by on my salary alone–and we use Eric's salary for savings and paying off debt and all the fun stuff.
But it made me wonder–at what point, income-wise, will we feel financially secure?
How much money is enough?
There are a few steps to get to where I will feel fine–comfortable, even–with our finances.
I would like to pay off my student loans. I am not going to say debt-free, because I do expect to accrue debt for a mortgage and perhaps a car within the next few years. I just don't see any way in saving up for a car while paying off my student loans at the same time

and

building an emergency fund.
I would like to have an emergency fund of at least six months of bare minimum expenses saved up.
I would like to have enough money saved for a down payment on a home and not have to be renting the rest of our lives.
I would like to be contributing the full match to our 401K (it's done on my part, Eric doesn't have one offered through work yet) and maxing out our Roths (we opened Roths this year, but we've only managed to put away $100 in each of them right now *sad face*)
I would like to be able to go on a big vacation once a year.
I would also like to be able to eat out at restaurants more without it killing me wondering how much this is going to cost us.
That's what it would take for me to get to the point where I would be comfortable with our finances. I don't need to buy more clothes or more stuff, but I do enjoy the experiences of vacations and restaurants. That's what I would spurge on if we had more money.
I know that once Eric gets his firefighter job, a lot of these things will happen really fast. But I am an impatient person and I want it to happen all now, now, NOW!
However, I think the move has helped us out so much with just being happier with where we are in our lives. We've come so far in paying off big chunks of our debt, and with just the student loans left, it feels good to know we're in the home stretch.
What would it take for you to be comfortable with your finances?
 image via