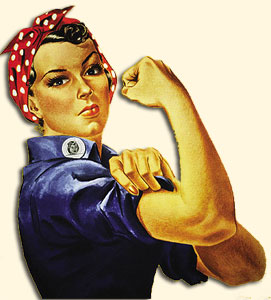 Sometimes, I think women spend too much time judging each other. From how we raise our kids, to whether we choose to work or stay at home, to even about whether we keep our maiden name or take our husband's last name.
This can been seen most recently with Time's "Are you mom enough?" —  as if it's  some kind of competition to see who can raise their children better using certain parenting tactics.
Frequently, I have come across posts from self-proclaimed feminists who can't possibly fathom in this day and age why a woman would still choose to take their husband's last name. This holier-than-thou attitude needs to stop.
What feminism means to me
Let me first start off by saying that feminism is not a four-letter word. It's the ideology that women are equal to men–not that we are the same, but that we are equal, and that one sex is not more important than the other. It goes both ways.
Second, as someone who grew up in a predominant patriarchal Latino household, I can say that I have fought hardcore against any injustices I felt were placed against me simply because of my gender. Simple, stupid things from seeing my brother have the same curfew as me (even though he was five years younger), to seeing him be allowed to have girls in his room with the door closed even though I could never even have a boy in my room with the door open.
Whenever I felt that my parents treated me differently just because I was a girl, you can bet your ass I caused a huge stir. It was a big source of contention in my family and I caused my parents a lot of grief because of it.
Why I chose to take my husband's last name
Which is why–in my marriage–I have fought so hard to create an equal environment. I have gone to great lengths to create as much of a 50/50 relationship as possible. So when someone claims that I am not feminist enough simply because I choose to take my husband's name, it irritates me to no end.
To me–the name thing was simple. While some women may feel that their identity is tied to their name– I do not. My maiden name was common. There were at least several hundred women in my zip code who had the same first and last name as me.
I always knew I wanted to change my name. In elementary school, I hated being picked last. I was always one of the last "Students of the Month". I was always one of the lasts to be called during elementary school graduation, middle school graduation, high school and college graduation– when everyone is already over it and just wants you to get off the stage.
I vowed that I would marry someone with an 'A through L' last name.
And I did. And now–there is no one else in the United States with my full name because it is so unique. I love it.
If you call a rose by any other name, is it not still a rose? If you call me by any other name, is it not still me? Of course it is!
Choosing to keep or not keep your maiden name is personal–just like a lot of other decisions. I don't judge you for keeping your name, why should you judge me for taking my husband's?
Feminism in my marriage
To me, feminism is more about actions than names. Sometimes, I still feel that I have to fight against societal expectations for women. At family events, my grandmother still expects me to serve my husband his meal. When I guffaw, she says he worked all day. Um hellooo?! So did I!
We are not in the 1950's anymore. My husband is not the breadwinner, and I don't get to stay home all day and make freshly-baked bread. My attitude is that if we both work, then we are both equally responsible for the household–and that includes all chores.
I resent it when it is automatically assumed that I should manage any kitchen-related duties simply because I am the wife. If we stuck to gender roles, my workload would be massive because most manly duties occur outside the home, such as yardwork and car maintenance. And that's just not fair, since our yard is tiny and those things don't require nearly as much upkeep as maintaining the inside of the home.
Recently, I left some of my co-workers with their mouths open when they heard that I don't do Eric's laundry. Why is it automatically expected of me to do these things? And yet, if Eric does my laundry it's seen as him helping me, doing me a favor.
At the same time, I know my marriage is not just a partnership. And I don't want to lose the romance and passion just for the sake of marriage equality. It's a fine balance that I consistently trying to learn.
For example, I may not do his laundry, but I often help prepare his meals for work. I bake chicken and steam veggies. I may not iron his work shirts, but I make sure the bills are paid.
To me, feminism is more than just changing my last name. It's finding equality in my marriage, and redefining the roles that our parents have adhered to for so many years.
What does feminism mean to you?
 image via