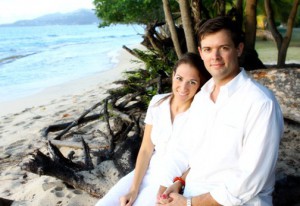 This is a guest post from my blog buddy, Budget Blonde. If you'd like to submit your own debt payoff story, email me at newlywedsonabudget at gmail
Not long ago, I lived in a nice townhouse in a posh area of Richmond, Virginia. You could walk a few blocks from my house and head to 3 different Starbucks, a Whole Foods, a Trader Joe's, and Nordstrom. I was a bit out of my league, but it was a safe area and one that I enjoyed living in with my new husband.
Although I enjoyed shopping at thrift stores for unique home décor items, other parts of my home were filled with extremely expensive products like a 50" plasma TV and fancy kitchen gadgets. We paid for most of these things with my husband's salary, which was a pretty decent one in the healthcare field. Everything was going pretty well, until we made a really big decision.
My husband wanted to go to medical school more than anything else in the world. After a few years in the work force, he confided to me one day that he didn't think he'd be happy unless he gave the med school application process a shot. I supported him fully, and just to be on the safe side, we extended our search to international schools.
Much to our excitement (and our horror), he was accepted to one of the very best international medical schools… in the Caribbean.
Oh yeah, and they wanted him to start 3 weeks from the time he got the acceptance notice.
Not really sure what to do except take a leap, my husband quit his job and moved to the Caribbean, leaving me in Richmond with one semester left of graduate school and a pretty tiny little salary as a full time Park Ranger.
Although I worked extremely hard, it became much more difficult to pay the bills without his income. I sat at the kitchen table in my big house by myself, clipping coupons and trying to figure out what to do.
After 6 months went by living like that, I pretty much had enough. I missed being with my husband, and I had absolutely zero family in Virginia. So, I decided to move to the Caribbean too. (What's a girl to do, right?)
I left my job, graduated with my master's degree, and sold almost everything in that house including our beds, our sofa, that massive TV, and other small items that I never even knew I had to begin with. Then, I swiped my card and bought myself a plane ticket.
By the time I got to the Caribbean, I was pretty happy to be back with my husband, but we had $6,000 in credit card debt. The last $2,000 was fresh and new from the two plane tickets that got us to our destination.
Surrounded by the beauty of the Caribbean and the minimalist life it had to offer, I began to think about that nasty credit card debt. All it represented were things we didn't need, dinners we shouldn't have had, and a lifestyle we didn't yet "deserve."
Unable to find work, we lived off of my husband's student loans. I started babysitting and freelance writing on various blogs. Every time I would make a little extra money, I put it towards the debt. Then, I was fortunate to get a part time job. Pretty soon, I was putting $300-$500 every month towards the debt.
A year in, I was really seeing some progress. A tax refund last April knocked out my husband's card debt. Then, there was only mine left.
I worked so hard over the summer to pay off that last bit of debt. I spent every night on my computer writing posts and seeking out contributor jobs online. Then, as if it were meant to happen all along, I got a call from my boss in August. Two employees left without notice. She asked if I wanted to try to take over one of their (much more lucrative) positions. After about .01 seconds of thought, I agreed.
I used my first paycheck to pay off my last bit of credit card debt and to make my first deposit into an emergency fund, something we should have had all along.
Now, I'm happy to say that our emergency fund has nearly $7,500 in it. We have both been credit card debt free for a few months. We finally feel safe. We finally feel like we are on the right track.
We've learned a great deal in the past few years about what it takes to be financially stable. It feels great to be able to support my husband as he pursues his dream just as I know one day he will be a huge help in supporting me (and our future kids).
Of course, we're not finished with this whole debt payoff adventure. Our next goal is to pay off my student loans, and then we'll concentrate on my husband's (somewhat monumental) medical school loans about 5 years from now. We're pretty excited about how far we've come and the lessons we've learned. Ultimately, the experience has shown me that you never know where your life will take you and that hard work, regardless of what form it's in, is proven to triumph time and time again.
Cat Alford is a personal finance blogger who writes about living on a budget in the Caribbean on her blog www.BudgetBlonde.com. Follow her on twitter @BudgetBlonde.