I'm sure everyone has had that moment where you come up with a really great comeback several minutes, or even hours, after a person has dissed you.
It's like you replay the moment over and over again in your head, coming up with several comebacks that you wish you would have said in that moment in time when they had just embarrassed you.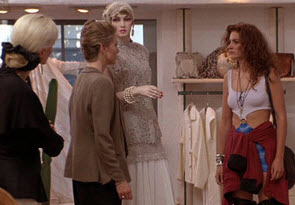 I call it the Pretty Woman moment.
It's from that scene in the movie where Julie Roberts returns to the store and confronts the two women who refused to wait on her the day before because she was dressed like a hooker.
She shows them with her shopping bags that they made a huge mistake by not waiting her and emphasizes that they work on commission.
The scene is so great because everyone has at one point or another experienced a moment just like that where someone puts you down and makes you feel bad and you wish so badly that you could have stood up for yourself with some smart comeback.
Last week, I attended a work luncheon and sat at the same table as a PR rep from a certain nonprofit. When I heard her title, I knew that it was the job I had applied for more than two years ago. It was the job that I KNEW 100% I was going to get because I was so well-qualified for it, and because it was my DREAM job.
As I sat there, realizing that this woman held the job that I had so coveted just two years prior, her boss–the one who had interviewed me–came and sat down at our table too. She didn't recognize me, and I avoided making eye contact.
But throughout the whole lunch I waited for my Pretty Woman moment.
I came up with quips that I could say like, "Thanks for not hiring me, I now make about $25,000 more than I would have had you given me the job, and I probably make more than you too" or "Yeah I now work at a company with lots of growing potential and did I mention that they're paying for me to get my master's?" or "I'm so glad you didn't hire me because my job now is so much better than yours."
No matter what quip I came up with in my head, I knew they were all mean-spirited and unprofessional.
It sucks to be turned down and denied. This boss lady obviously though I didn't have what it takes to work in that position and that made me mad because I knew I did. In every sense of the phrase, her loss was my gain.
Had I been accepted for that job, I would have had to take a paycut, and I know raises don't come easily at nonprofits. And not just for the money reasons, but as the woman who did get my job was discussing her job–mailers, stuffing envelopes, etc–I realized how grateful I was to not have to do that kind of work on a daily basis.
I left the luncheon without saying anything. In my head, I had my Pretty Woman moment, and that was enough for me.
  Have you ever had a Pretty Woman moment where you get to say something to someone who put you down?
image source