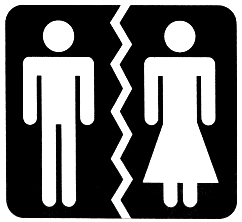 The D-word seems to be an unspoken word among married couples, even though it is extremely prevalent pretty much everywhere you turn.
Is this word used too lightly? Is it "always an option"? Does everyone have a divorce clause in their marriage? For example, "I am allowed to divorce you if x, y or z occur."
Two years ago- yes, two years ago– I wrote a post titled "It's Hard to Be an EMT's wife." At the time, many comments were understanding (as most of your blog friends tend to be). Since then, I will receive random comments from people who seem to find the post through google or what not.
These comments are usually in two categories–the EMT wife who completely agrees with me that an EMT schedule sucks– and the EMTs themselves, who claim that if their wife acted like me, they would have divorced me by now.
When I first received one of these comments, it really hurt. How could someone possibly claim that I should be divorced simply by one post? But now, I have a much thicker skin.
My thought process now is that if you would so easily divorce someone over one tough period in your life, then I'm glad I didn't marry you either.
I recently wrote that Eric and I are doing so much better with everything in our lives. And many of the reasons as to why I hated his job before no longer stand.
But I'm still a bit surprised by how easy people throw out the D-word these days. I take these mean-spirited comments with a grain of salt.
I'm glad that Eric and I don't share the divorce mentality that these commenters do, but I'm also not dumb enough to believe that our marriage is immune to struggles just because we love each other.
Eric and I both had great marriage role models in our parents. We've seen them go through struggles, ups and downs and still make it through–and yes, they're happy.
I'm not saying divorce shouldn't be an option–there are many cases and instances where it is absolutely necessary. But I also think that sometimes we're too quick to rush into a solution and a quick fix.
As individuals, we're not happy all the time. And I think too often when we become married, we seem to blame our unhappiness on our marriage rather than look at our own issues.
What do you think? Is the d-word used too easily these days?
Join our newsletter
Get the latest content straight to your inbox.