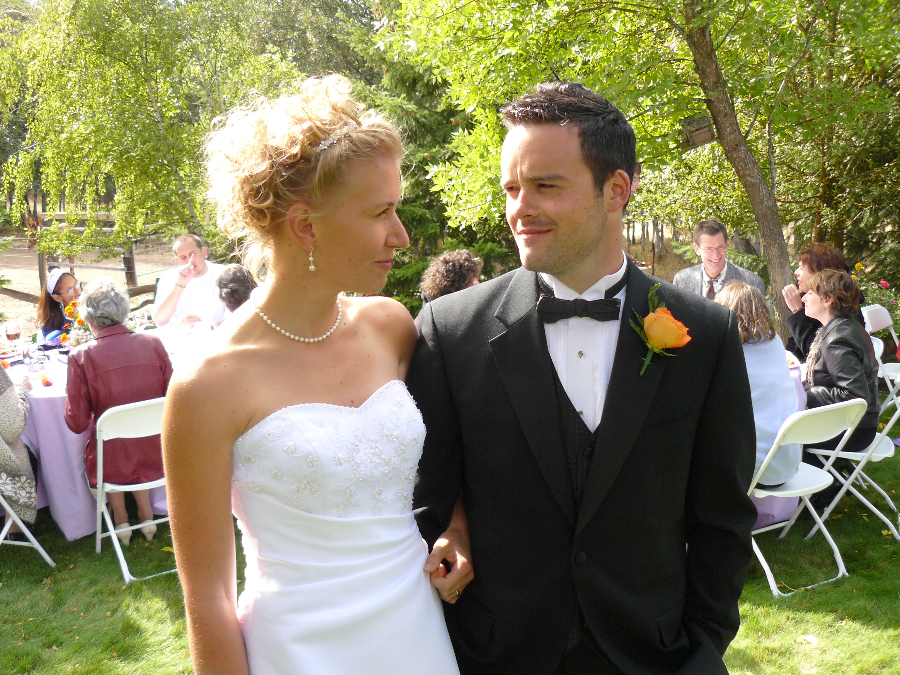 After a
three-week engagement,
Eric and I had a small courthouse ceremony and a 50-guest reception in my parent's backyard.
At the time, I was fine with letting a lot of things go, because I knew we would have our "real" wedding when Eric returned from Air Force training. (Long story short: Eric never left for the Air Force).




As time has gone by, I've sort of let the idea slip out of my head of redoing our wedding the way I would have really wanted.
We celebrated three years in April, and while I have no qualms of having a second wedding (people who remarry other people have another wedding, why can't I have another wedding to marry the same person?), I'm still having a lot of doubts.
For our one-year anniversary, I really tried to do a church vow renewal but all the work and the costs were a serious impediment. We were too broke at the time to even entertain the idea of doing another wedding.
Now that we're more financially settled, we could definitely save up for a "real" wedding. But now I'm wondering: do I even want to?
The thought of plucking down thousands of dollars for one day just makes me extremely squeamish. There are so many other things that we could use that money for, such as
At the same time, I am kind of sad that I didn't get the wedding I wanted. While our small ceremony and reception was very beautiful (it really was), there were still a lot of things I feel I missed out on.
I didn't have the wedding dress I dreamed of, I didn't get to have my dad walk me down the aisle or get married in a church. I didn't have a sit down dinner, or a champagne toast, or even a wedding cake. We sort of had a first dance…?
Some of these things are more superficial than others. The bottom line it comes down to is: I want a wedding, but I don't want to pay for it.
I guess we could all say that for a lot of things, huh?
It may not have been the wedding of my dreams, but I do love our story.
I love our marriage, I loved the actual act of getting married and I remember the way I felt on that day and how I seriously knew it was the happiest day of my life.
There are moments in our lives where we are filled with so much love that you feel you will burst. Our wedding was one of those days.
Why do I keep focusing on the materialistic aspects of that day when I am beyond happy with the purpose of our wedding, which was to actually get married?
And if I did do another wedding, I know that I would be so preoccupied with the budget that it still wouldn't be the wedding I dreamed of. I would be so worried over dollars and figures that I have a hard time imagining myself actually enjoying it.
How could I possibly devote thousands of dollars toward one day in my life, when we're working so hard to save up for a house?
I think I need to let the wedding dream go…but you best be damn sure I'm going to have a huge ass baby shower.
Do you have any wedding day regrets? Anything you would change or would you do it exactly the same way?
Photo credit: SarahElise.