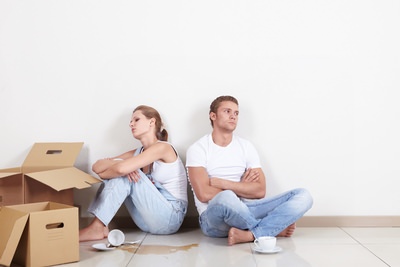 Now that we've paid off our debt, and now that Eric is bringing home the bacon, we've gotten excited about the possibility of owning our own home.
Home ownership is a really big goal of ours.
But we knew very little about what it would actually cost or what we could actually afford. So we went to our credit union to get some info. Just out of curiosity.
I walked away with my dreams shattered.
Eric says I'm being melodramatic (I'm not!), but basically it's gonna be a while before we can afford to buy a home.
The Bad News on Buying a House
At our credit union, they offer low down payment programs if your loan is under $417,000.
You can't get squat under $417k around here. The two-bedroom in our neighborhood is going for $460k.
Anything above 417k, you either have to pay the difference in cash, or get a jumbo loan, which requires a 10% minimum down payment, closing costs and temporary PMI.
On a $600,000 house, we would need $90k upfront, plus two months' mortgage payments, totaling an additional $8k. Housing payments include home insurance and property taxes.
Say we went really low budget and scored something for $450k? We could do the lower $417k loan and pay the difference in cash, but it would still be about $50k in upfront costs, plus two months' mortgage payments.
The Good News on Buying a House
The only real good news is that we're excellent candidates for a home loan.
We have no debt

We make a good income
We have excellent credit
The credit union rep said we are very low risk and was amazed at our financials.
A part of me wonders if we would have been better off keeping our cash rather than paying off debt. I know that we made the right decision and it feels AMAZING, but now we're back at square one when it comes to building up our cash reserves.
That being said, we're already ahead of schedule of where we should be at this point in order to save $30k this year. So we're saving money quickly.
But, but, but…
For a $450k home, the estimated mortgage would be $2800 (property taxes, insurance, etc included). For a $600k home, the estimated mortgage would be $3800, according to our credit union.
Those are both still over the $2500 mortgage we had envisioned…meaning…. will we ever be able to buy a home???
And both those mortgages include the $50k-90k upfront costs–so how much higher would the mortgage actually be if we had a low down payment?
Could we save that amount? Yes, we could, within the next few years– I really don't know how long it would take us.
And what will the housing market be like at that point? Housing prices have already rebounded significantly in Orange County.
We run the risk of getting priced out the longer we wait–which is a very real possibility and one of my biggest fears. But at this point, buying is not an option.
***
All of this information has weighed on me heavily. It was a real let-down, for sure.
Eric has assigned me the task of crunching our budget to save as much money as possible, while he takes care of figuring out how we're gonna get a house.
The financials of this whole scenario stresses me out. Saving money? I can do. Figuring out how we're gonna make home ownership a reality? I have no clue.
We still have to explore other options, like an FHA loan, but I heard those require PMI insurance throughout the entirety of the loan…
Honestly, I don't know anything at this point. I'm so overwhelmed by this info and I'm so discouraged too. I want to stop thinking about it, but it's like telling yourself to avoid the pink elephant in the room…
The thing that irritates me the most…
…is that we know other couples who own their own home, and they make a lot less than what we make and have way more debt than we have. So how are other people affording to buy a home, and we can't? I don't get it!
And there's no way they had 10% down.
Ugh, I'm just so frustrated.
Rant over.