Eric took me shooting last weekend, and it wasn't as scary as I thought it was going to be.
When I first walked into the range, I immediately wanted to walk back out. The noise was just overwhelming, even with my bunny ears on, and I really did sort of feel like I was going to get shot at any point.
Eventually, you get used to the sound. Eric showed me safety rules, how to load, etc. And I have to say it was a lot harder than they make it look in the movies.
In fact, I came to the conclusion that there's no way that they're able to shoot all those zombies right in the head on The Walking Dead.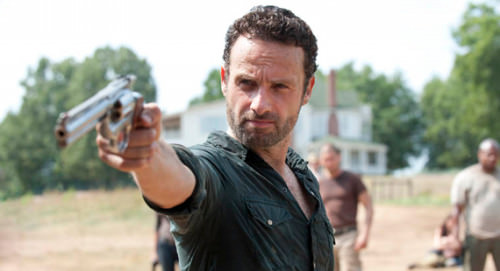 No, Rick. No.
However, I feel like I kinda started to get the hang of it. And in the end, I was happy I at least hit the paper.
Well…I guess I can go ahead and address the elephant in the room.
Gun control–not really sure how I feel about it. There's the part of me that thinks yes, we absolutely need laws to control guns. There's the other part of me that thinks but don't we already have those laws? And why aren't our current laws working? 
There's obviously something amiss in our country that we have such a high gun-death rate. But when politicians urge gun control, do they mean completely eradicate guns?
Because we have laws against drugs, and those don't seem to be working. So when I hear about gun control, I wonder what they are seeking to accomplish.
We do need a solution, but I'm not sure that anyone really has an adequate answer yet.
As with all political debates, I tend to really hold off on choosing a side until I feel I adequately understand both sides. I don't know about you, but I am much more inclined to listen to politics when I feel like they're talking with me and not at me.