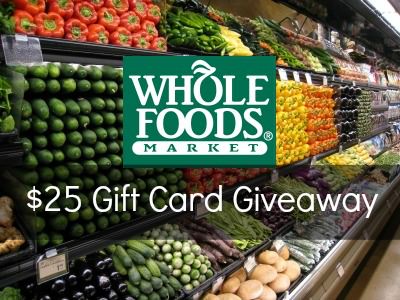 Eric and I were lucky to have Whole Foods come to our home and prepare a fantastic three-course-meal on a budget.
But the real purpose of our trip was to see how to actually save money and shop at Whole Foods on a budget.
Straight from the Whole Foods experts, here is what we learned on how to save money at Whole Foods.




Whole Foods on a Budget
Meal Plan Based on That Week's Specials: So many times, I come up with my menu plan (menu planning, btw, is the best way to save money on groceries!) based on what I saw on Pinterest that week. This is the backwards way to do it.
The right way to save the most money is to actually base your menu around that week's specials. For example, if salmon is on sale, you can make these awesome Honey-Lime Salmon Kebabs! If you don't know what to cook, ask the employees…which brings me to…
Whole Value: Whole Foods is committed to providing the best value. When you shop at Whole Foods, feel free to talk to the employees and ask for help! Everybody is so nice and so very cool!
On our tour, we met the Whole Foods finalist for fishmonger in the world–yes, that's an actual competition where they have to fillet a fish the fastest and cleanest. These people love to talk about food and they'd love to help you prepare a fabulous meal on a budget.
Cut the Cheese: Do you ever become overwhelmed by that large cheese selection? I know I do.
Eric and I discovered the $4 cheese bin a while ago, where you can get great pieces of cheese for under four bucks. But did you know, you can ask the cheese monger to cut any piece of cheese for you to fit into your budget? I have a feeling this will definitely be the most dangerous tip since everyone knows Eric and I fight over cheese. Seriously, you can create a really great cheese plate with about three different $4 selections of cheese. Heck, tell the cheese monger to select some cheeses for you!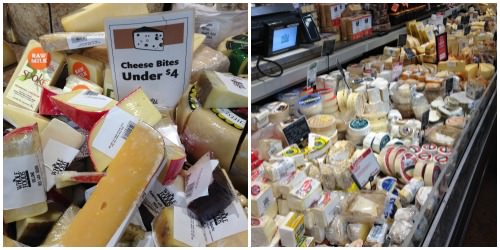 One Size Does Not Fit All: As with the cheese, you can get a specific amount of anything, including fish, beef and chicken, just ask! If you only need a half pound, no need to pay for the whole pound, right?
Be a Wino: To go with that cheese plate, you can pick up some bottles of wine. And did you know that if you buy six bottles of wine, you get 20% off? That's like having a $10 bottle of wine for $8!
Meal Plan with the Whole Deal: If you don't know how to get started meal planning, check out The Whole Deal–your store's local value guide, which comes filled with coupons, recipes, and an actual one-week meal plan based on specials that will be going on in your store!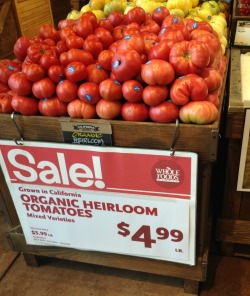 Buy what's in season: Lucky for you, the store specials are often based on what's in season. Chef Nick says that you'll always find deals based on what's in season, like tomatoes for $4.99 a pound, when they're normally $5.99 or more. The day we went shopping, we got deals on corn, figs, and peaches, which all made in appearance on our menu.
Be adventurous: Of course, what's on sale may not be something you're comfortable trying.
Here's a secret–I had never tried a fresh fig before in my life. It's just not something I grew up with and had no idea how to actually prep it. Now that Chef Nick showed me how, I can actually prep them myself! If you don't know how to cook something, ask the employees! Again, they love to help.
Chicken is Chicken: One of the favorite tips I learned was that the chicken at the butcher counter is $7.99, but the pre-packaged chicken right below the butcher counter is only $5.99, and guess what? It's the same chicken!!
The only difference is that it is pre-packaged, which helps Whole Foods save time and money because they are not personally preparing an order for you. I had no idea it was the same.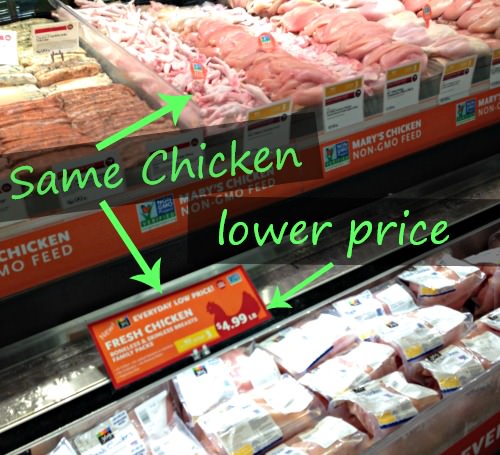 Buy Frozen: If it's not in season, buying it fresh will probably be expensive. So turn to the freezer for deals on out-of-season produce. Here's a big tip about cooking from frozen–it's best if you steam the food, not boil it. Boiling causes the extra water to affect the texture, whereas steaming actually helps bring out the flavor. That's an expert tip right there.
Buy in Bulk: Buying in the bulk section saves you money because you're not paying for the packaging. Whole Foods has a TON of bulk foods. Our local store has bulk honey in several different flavors, bulk soy sauce, a make-your-own-granola station… do you ever hate when a recipe calls for something obscure like pastry flour or some weird spice you will only use once? This is perfect to buy in bulk.
Bring in Your Bags: Not only are reusable bags great for the environment, but at Whole Foods, you'll get rewarded between 5 and 10 cents for every bag you bring in. And if you're one of those people that can never remember to bring them to the store–keep them in your trunk! That way you'll never be without them 🙂
If you still feel overwhelmed by your local Whole Foods and just don't see how it will ever fit into your budget, take a Value Tour. Every store offers shoppers a Value Tour, where you go around and learn about how to navigate your local store. I highly recommend it, even if you've been shopping at your local Whole Foods for a while, because you will most likely learn something new!
I was so, so impressed with Whole Foods and their staff of knowledgeable and passionate employees. You can really tell that everyone loves working there.
Every time Eric and I shop at Whole Foods, it feels like an experience. And I hope that you can join in and take part in the experience as well!
Whole Foods has graciously given me $25 gift cards to give out to FIVE lucky Newlyweds on a Budget readers.
a Rafflecopter giveaway

Winners will have 72 hours to respond once notified, otherwise a new winner will be chosen.
I was not paid by Whole Foods for this post, but I did receive dinner and a week's worth of groceries for free. However, Eric and I have been regular Whole Foods shoppers for a few years and opinions are entirely our own. We really do love Whole Foods.