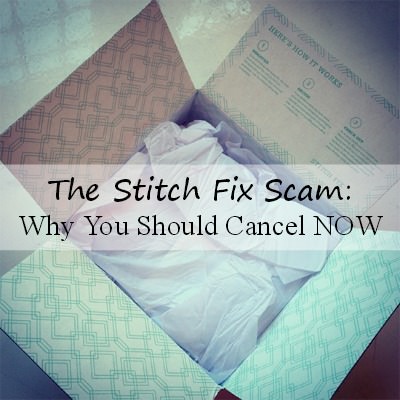 When I first heard about Stitch Fix, I thought it was the solution to my year-long hatred of the mall.
Cute clothes delivered to my doorstep? Yes, please!
I've done four boxes and with every box I've been more and more disillusioned.
There's a reason I haven't done another Stitch Fix review–I just kept waiting and waiting for something I could actually show off.
I knew I was paying a premium on the clothing–it was the mark-up for convenience right?
But last month, my box came with a tie-dyed maxi dress that was practically see-through and they were trying to charge me $78 for it…
The month before, I even returned all the items and simply lost my $20 deposit on the box, because I couldn't justify keeping any of the overpriced items simply so I wouldn't lose $20.
I also put my subscription on hold, as an attempt to decide whether it was worth keeping the subscription, or if I should just cancel.
The Stitch Fix Scam Video
And then I saw this video–and it sealed the deal:
 I knew the clothing was being marked up–but I had never suspected to what extent, or even worse–that they were simply getting the clothing for Nordstrom Rack. Suddenly, everything made a lot of sense as to why the sizes were always off, and clothing never quite fit the right way.
I rarely shop at Nordstrom Rack unless I need some basics. There have been too many times where I've shopped there, and will try on a whole shopping cart full of clothes and leave the dressing room empty-handed, simply because most of the clothing is ill-fitting.
You can read Stitch Fix's response to the brouhaha here.
I'm not buying their explanation, and I'm definitely not buying any more Stitch Fix.  But I am spreading the word to help any other frugal-at-heart blogger save their pennies.
In the end, I decided I just wasn't going to support this Stitch Fix scam anymore. Clothing to my door is not worth the 80% markup.
I'll drive myself to the mall, thankyouverymuch.
BUT–if you are in the mood for some cheap & chic clothing., I highly recommend checking out your local JC Penney's (I am not being sponsored or compensated in any way for mentioning JCP–I am just a very satisfied customer!).


I recently visited my closest store after another blogger did a review on their cute and comfortable shorts. I always have a problem finding comfortable shorts that don't show off my butt cheeks, but I fell in love with their A.N.A. misses shorts and bought two pairs (you do need to go up a size because it's misses sizes). I also ended up getting about 10 pieces of clothing for about $80, including a $15 coral dress on clearance that I've received endless compliments on (they only have two colors left).
So that's my fashion service announcement for the summer.
For ways to shop and save money on clothes and other things, check out these awesome articles.
Kids designer clothes are cheaper at Debenhams
Why Wanting to be Part of the In Crowd Cost Me Thousands
The Pros and Cons of Shopping Online