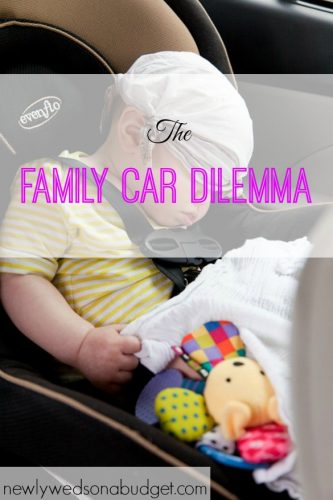 First off, I want to say, thank you, thank you, thank you, for all the kind words and sympathetic ears on my last post. When a post is written like that, it can easily be misconstrued and I am so grateful that everyone took it the correct way and empathized with my current plight. I am happy to say after a low-key and family-filled weekend, I am doing a lot better and hope to get into full baby prep soon.
In the meantime, I desperately need some advice on a financial conundrum that I am sure you savvy spenders will be able to understand.
Choosing a Car for our Baby Car Seat
Eric and I both have two-door cars.
Back when I bought my Honda Accord in 2006, I thought the two-door looked cooler and I figured by the time I was ready to have a family, which at that time was years away, I figured I would for sure have a new car.
How very wrong I was.
If I had purchased a four-door car, I would not be in the situation I am in today.
Eric has a truck with no back-seat cab. So neither of our cars will comfortably fit a baby seat. My coupe could at least hold the car seat, but it's going to be a pain getting the baby in and out, but I'm willing to struggle through it if need be.
Eric really, really wants to keep his truck because he does use it a lot for work, and for house projects, hauling things to and from Home Depot.
HOWEVER, because Eric and my work schedules don't align, there will be times where Eric will need to pick up the baby from child care, and vice versa. For this reason, we really need TWO cars that will hold car seats.
Here are some of the options we've thought about. FYI- by the time we are ready to buy a car in October or so, we will have between $8K-10K saved up specifically for a car. I would really like to keep our loan down to a $10K, 36-month loan. We could afford to pay for a car completely in cash, but I would rather not empty our reserves, especially with a baby on the way. So this gives us a total budget of between $15-20K.
Option #1: 
Buy used family car ($20K budget, 2010 or so SUV) that would become my main mode of transportation. Keep both the truck and coupe. Eric can use the truck for work/house stuff, and use the coupe on the few days he'll need to do daycare duty. This will mean we will have three cars. We may get a live-in nanny, so this may work so that the nanny will have the coupe to drive.
Option #2: 
Keep my Coupe, sell Eric's truck (put money toward new car) and buy him a newer used truck with a full cab to fit baby seat. For family trips, we would use the truck.
Option #3: 
Try and trade my coupe for a four-door, sell Eric's truck and buy him a new truck with cab.
Are there any other options we're missing? What do you think would be the most affordable option? I'm open to any advice!