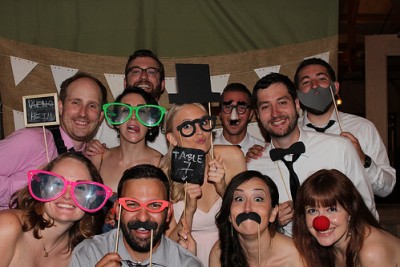 Planning your wedding is a fun and exciting time, but it can also be stressful. You may know that there are wedding apps that help you save time, but fortunately there are also wedding apps that help you save money as well. Whether you want help managing your budget or cutting costs on your big day, there is an app that can help you achieve those goals.
SimpleBooth
Image via Flickr by wanderlovepress
If you love the idea of a photo booth, but you don't love the price tag, enter SimpleBooth. Set up a tablet with a backdrop, and you have an easy and free do-it-yourself photo booth. If you don't have a photo printer, you will need to buy one that connects to your tablet, but that price tag is still lower than the cost of renting a photo booth for your occasion. SimpleBooth offers a free version of the app; however, you can buy more advanced versions depending on your needs, all from the Apple store.
Wedding Budget Calculator
Both making a budget for your wedding and staying within that budget can be a challenge, which is where Wedding Budget Calculator comes in. For $2.99 you can download a pre-made list of typical wedding expenses from the Apple store. Insert the budget amount and the actual cost once it's paid, and you'll get real-time information about how much money you have left in your budget.
Weddings are sometimes full of surprises and unexpected costs. This app's comprehensive list helps you to remember all the costs of a wedding, so you don't have any last-minute surprises leading up to the day. Knowing how much you have left to spend can keep you frugal leading up to your wedding, and keep you within your budget.
Pinterest
The best way to save money on your wedding is to do the decorations yourself. Enter Pinterest. This app is a bride-to-be's best friend for coming up with ideas and instructions for turning those ideas into real life. This free app, available in both the Google and Apple stores, lets you to follow other people's boards, skim different designs and projects, and sends you to websites with more information. Unless you're planning on hiring someone to do everything for you, you should download this app on your smartphone, such as the new HTC One M9. The M9's 5-inch display and long battery life, combined with a fast and reliable LTE network like T-Mobile's, work perfectly no matter where you are.
MyFitnessPal
You don't want to neglect your body just because you're planning a wedding. But if a personal trainer is not in the budget, then this app can help. MyFitnessPal helps you to keep track of every aspect of your fitness and nutrition leading up to the big day. The basic app is free on Google and Apple, but you can also upgrade for a small fee. It includes thousands of food options, and you can even scan the bar codes of your food to track your calories. The app also will count your steps, and you can input any other exercise.
WedPics
While you may not want to forego a photographer altogether, you can at least save some money by using WedPics. This free app on Google or Apple allows you to share your information with your friends and family and upload your photos before the event. On the big day, guests can snap pictures through the app which will automatically be uploaded to your personal site. In addition to unlimited photos and videos, WedPics also lets you list accommodations, registries, wedding-related events, and more for all your guests.
WeddingDJ
Music can make or break your reception, but a professional DJ is a big-ticket item. Save some money, and take back the control of your reception entertainment by downloading WeddingDJ to your smartphone from the Apple store. For $7.99, this app allows you to sort your music into procession, ceremony, cocktail hour, dinner, dancing, and whatever other group you need for your big event. You don't have to worry about the music skipping or turning off, and you don't have to worry about the DJ playing a song you hate.
Weddings can be expensive, but fortunately your smartphone can help you save money while planning your big day. There is no rule that you must have a formal DJ, or even hire a professional photographer. If you're looking to save money on your wedding, turn first to your smartphone.