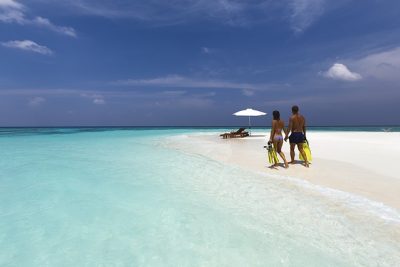 It can be easy to get swept away with the hustle and bustle of all the responsibilities of modern life. So with that in mind it's always important to take the time to rekindle the romance in your life. One of the best ways to do that is to go on a short holiday. You don't need to go away for long, even taking just a few days can bring back a little sparkle.
A short romantic getaway needn't cost the Earth either. You can easily have a reinvigorating break without breaking the bank, and we've compiled a few tips on how to do just that.
Be spontaneous!
There's nothing more romantic than a bit of spontaneity, and as luck would have it, that's also one of the best ways to save money on a holiday. By looking for last minute holidays and short-notice bargains you can find a steal. This means you shouldn't be too precious about dates, and might have to jet off at a moment's notice, but that's all part of the excitement.
Enjoy some mystery!
If you have a destination in mind then great, but by being open minded you can potentially save more and add some mystery to your romantic getaway. Take a look at cheap flights and availability and book flights to somewhere you've never been. If you're open-minded about where you're going, you might find a bargain and get to enjoy an exhilarating adventure to somewhere unknown.
Choose self-catering
The biggest expense after flights and accommodation on any holiday is food and drink. And this is just as true on short breaks as long ones. One way to keep costs down is by opting for a self-catering holiday. This lets you eat like a local and save money by cooking meals yourself. And with the right self-catering apartment or villa you can enjoy just as much romance with a nice meal and bottle of local wine on the balcony or terrace. With the savings you can always splurge on one expensive meal at an exclusive restaurant.
Choose all-inclusive
An all-inclusive holiday may seem more expensive on the face of it, but if you want a longer holiday it might be a better way of saving money. By paying for your food and drinks upfront you won't face any unwanted financial surprises and can budget easily and effectively. While it might not be the right choice for a short romantic city break, if you want some relaxing time together by the beach in a well-appointed resort, then it is definitely worth considering.
Join our newsletter
Get the latest content straight to your inbox.