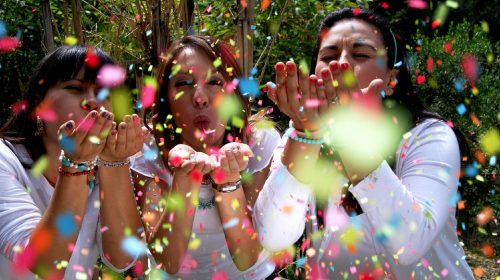 – IMAGE SOURCE: https://pixabay.com/en/people-happy-happy-people-joy-1230872/
You might be newlyweds living on a strict budget, but that doesn't mean you can't still have fun! With a little innovation, flair and vision you can host an unforgettable party without having to spend a pretty penny. If parties in your household have always been a big deal, don't let a ring on your finger stop you from planning a perfect party on the cheap. These five party theme ideas don't require you to get into debt and are sure to create some memories of a lifetime with friends and family.
Supermarket Value night
The Supermarket Value theme speaks for itself in terms of its budget-friendly approach. If you and your other half went to college, the chances are you will have been to one or two of these parties in the past. If you're planning on hosting your old college pals, why not relive those carefree college days and host your own Supermarket Value party? If you're unfamiliar with the Supermarket Value theme, it basically entails you purchasing the cheapest Supermarket-branded food and beverages available. Granted, the food and drink might not be up to much, but you've already set those expectations low with the very theme of your party! You could relive those classic college drinking games such as Ring of Fire. Before you start the game it's a good idea for everyone to know what each card stands for. As each player picks up a card, they will then be able to follow the rule. The aptly-named Ring of Fire Rules website displays the official rules of the game, including the forfeits and actions within the game. These forfeits can include all males drinking, all females drinking and the waterfall game, where everyone must keep drinking until the person who picked the card stops.
Roaring 1920s theme
The "roaring twenties" have risen immensely in popularity thanks largely to Baz Luhrmann's Great Gatsby movie. There's a little bit of the 1920s in all of us and if you want to host your own 1920s cocktail party without breaking the bank, here are a few simple ideas you could incorporate. The 1920s era was all about Prohibition. Bars and saloons were closed and alcoholic beverages were sold on the quiet in "speakeasies". With a little imagination, you can transform your home into your very own speakeasy, using dark, rich fabrics and even faux velvet. Small round tables and chairs were the done thing in 1920s speakeasies, so you could even turn garden furniture into a suitable table with heavy tablecloths over the top. Low-level lighting can help set the intimate scene and some upbeat New Orleans or Chicago jazz will keep things jovial. Create your own moonshine' drink using anything you've got in the cupboard – it's guaranteed to intrigue your guests. On the game front, the roaring twenties are closely associated with casino-type games, as we saw in 2013's The Great Gatsby. Set up an old-school casino room in your dining room. Manual roulette wheels and betting mats are cheap to pick up from general toy stores and are another great way of adding to the party atmosphere. Roulette is an easy game to play, but there are still some specific types of bets to be placed, such as odds and evens, corner bets and outside bets, according to Betway's roulette rules page. Knowing the terminology and gameplay mechanics will help you serve as the croupier of the table to entertain your guests.
Bohemian/Music Festival theme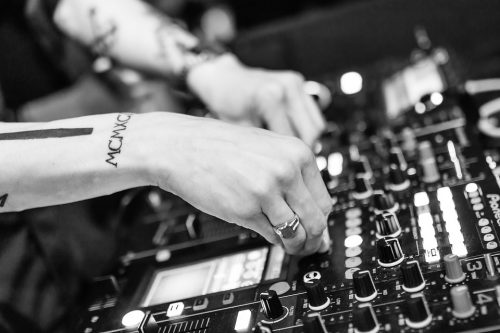 – IMAGE SOURCE: https://pixabay.com/en/dj-deejay-music-night-nightclub-720589/
With the warmer summer weather just around the corner, what better way to enjoy the sunshine than to host your very own Music Festival-themed garden party? You can invite your friends and family to "Couchella" by sending mock festival tickets to them in the post to create the excitement. If you've got the space in your garden, set up a mini stage and invite your guests to bring their own musical instruments to perform a short slot at the party. Set up your music system outside so that there's also a clear DJ area for those who prefer dance music to live music. If you want to be kinder to your neighbours, you could set up your very own Silent Disco, allowing guests to wear headphones and dance along to the songs you play. Silent Discos eliminate noise pollution entirely, which is an effective way of keeping the party and the music going late into the night without excess noise for nearby residents. CL MotoTech outlines how to perfect your own DIY Silent Disco and includes expected costs incurred too. It's a realistic prospect for a house party as consumer-grade software and hardware now make it possible to achieve a low-cost yet enjoyable Silent Disco. Typical Silent Discos transmit audio via Bluetooth, FM or Wi-Fi in tandem with headphones that receive and unleash the audio signals into your guests' ears. If you have a firepit or chimenea, be sure to place this near the cosy seating areas for when the sun goes down and have the BBQ lit throughout the festival, supplying snacks on tap.
FIFA World Cup theme
Last but by no means least, another fun-packed summer party idea that's sure to get the pulses racing of soccer fans. This summer sees Russia play host to the 2018 FIFA World Cup finals. Although the U.S. failed to qualify, if you have friends of various nationalities it might be fun to host a World Cup themed party to coincide with either the opening ceremony or the final on July 15. If you've got a nice garden area, set up a small football goal for the kids to amuse themselves. Set up your television outside so that the footy fanatics can keep on top of the action. Bunting is always good for setting the scene for a party. Create your own footballs for the bunting using white balloons and decorate them using a black pen. You can even keep cool with some ice pops coloured with the flags of the nations playing in the final! A soccer-themed fancy dress is also a good shout – who doesn't like dressing up as Carlos Valderrama?!
Hopefully, these budget party ideas prove that you don't need hired help to have a great time with your loved ones. All you need is some wonderful weather, great company and a theme that everyone can get on board with!
References & Sources: