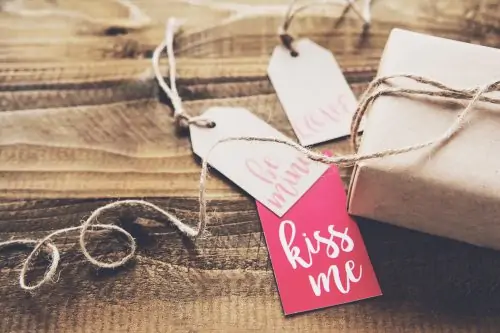 Valentine's Day is only a few days away. If you always imagined getting married on February 14, you might assume that 2020 isn't going to be the year it happens. After all, there's only a couple of days to plan, so it's easy to think that it wouldn't be possible. While it's true that you could wait until next year, you don't technically have to. If you want to throw a last-minute Valentine's Day wedding, here's what you need to do.
Get a License ASAP For A Valentine's Day Wedding
A decent number of states can give you a marriage license the same day you apply. This includes:
Alabama
Arizona
Arkansas
California
Colorado
Connecticut
Georgia
Hawaii
Idaho
Indiana
Maine
Mississippi
Montana
Nebraska
Nevada
New Mexico
North Carolina
North Dakota
Ohio
Oklahoma
Rhode Island
South Dakota
Tennessee
Utah
Vermont
Virginia
West Virginia
Wyoming
But that doesn't mean you want to wait. Without a license, you can't get married, so you want to make sure this gets handled quickly.
Additionally, many states have waiting periods for marriage licenses. That means, once you apply, it might take a few days before it will be issued or until you can use it.
Get Your License ASAP If You Live In These States
With only a few days to go before Valentine's Day, you need to get your license ASAP. If you live in the following states, you need to apply by February 11 if you want to get married on February 14:
Alaska
Florida
Iowa
Kansas
Louisiana
Massachusetts
Michigan
Missouri
New Hampshire
New Jersey
Oregon
Pennsylvania
Texas
Washington
Delaware is a bit different. For residents, the wait is 24 hours. For non-residents, it's 96 hours (4 days). That means it's too late for non-residents to get a license in time for a Valentine's Day wedding.
In Illinois, New York, and South Carolina, there's also only a 24 hour waiting period. In Maryland, the wait is 48 hours.
Additionally, a few locations have waits longer than three days, so you can't make the cutoff there either. If you were planning on getting married in the places below, you won't be able to get married on February 14, 2020, if you don't already have your license:
District of Columbia (Washington DC) – 5-day wait
Minnesota – 5-day wait
Wisconsin – 6-day wait
Think Local
Arranging travel usually takes a bit of time, especially around holidays. Valentine's Day is a popular time for couples to head out to romantic destinations and, considering February 14 is on a Friday in 2020, this year might see more travel.
Since you're making last-minute plans, think local. Avoid the need for hotel rooms, plane tickets, or even long drives. That way, you won't have to organize any more than absolutely necessary.
The only time when an exception to this might be necessary is if you live in an area with a longer than 3-day waiting period. If that's the case, then traveling might be the only way to pull off a February 14, 2020 wedding for you.
Consider a Courthouse Wedding
If you want to avoid as much planning as possible, a courthouse wedding might be the way to go. Since Valentine's Day is on a Friday, there might be a justice of the peace available who can officiate.
Check with your local courthouse to find out about availability. In some cases, you need to schedule an appointment in advance, so take a look right now and see how yours works.
Limit Your Guest List
Since you have less than a handful of days to pull off a Valentine's Day wedding this year, keep your guest list as small as possible. By only inviting your nearest and dearest, you make the event easier to coordinate.
Ideally, you want to limit your guests to people who live local to your venue as well. That way, coordinating travel isn't an issue. As long as you have people to act as witnesses, that's technically all you need.
Stay Open-Minded
When you plan a last-minute wedding, you can't get hung up on certain details. There isn't time for a custom wedding dress, to have out-of-season flowers shipped in, or secure a baker for a fantasy wedding cake. Instead, you are going to be limited by what's available in stores right now more times than not.
Make sure to stay open-minded when you look for attire, décor, accessories, or anything else. Find out about what's in stock and available immediately, and then make your choices from there.
Similarly, securing a venue with just a few days notice isn't probably going to work. Consider using a private property for your wedding instead, such as a friend or family member's backyard, barn, or bonus room. You may be able to use public property that doesn't require reservations as well, such as pavilions at local parks.
For the officiant, you may be able to have a friend or family member set up with a one-day designation to perform your service. That may make that part easier to manage as well.
Did you get married quickly? Do you have any tips that can help someone create their dream wedding in just a few days? Share your thoughts in the comments below.
Read More: