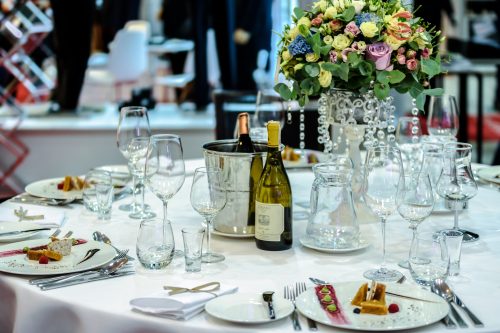 When it comes to wedding food, catering services are the go-to approach for couples. It allows them to ensure a significant part of the celebration is handled by professionals who are well-versed in cooking for large groups. However, wedding catering can also be a major budget line item. Many couples worry that the average catering costs per person are too high. They also worry  that what a caterer is telling them is a reasonable price for the service actually isn't. If you are wondering how much it costs to cater a wedding for 50 people. Here's what you need to know.
Factors that Impact Wedding Catering Costs
First, it's crucial to understand that catering costs vary dramatically. Not only does the number of guests play a role. But so does the kind of dining option the couple wants.
Typically, a sit-down dinner is the most expensive approach. It involves both cooking the food and plating each meal, at a minimum. If the caterer is also providing waitstaff to serve the dishes, then the cost goes up. Similarly, if there are multiple courses, the price is higher than if there are fewer.
Buffets are typically lower-priced that restaurant-style dining, even if the food you choose is comparable. The caterer doesn't have to worry about plating or waiting on tables. Instead, they can cook the foods en masse, serve them on large platters or in chafing dishes, and allow diners to serve themselves.
When it comes to an hors d'oeurvre-only affair, it may be more or less expensive than a buffet. Again, it depends on the exact nibbles the couple wants, as some hors d'ouervres involve high-priced ingredients and take a substantial amount of skill to create. Additionally, the price is higher if waitstaff is carrying the small bites around the reception than it would be if they were displayed on a table.
Other Things The Caterer Handles
Whether the caterer is also handling the beverages is a factor. Similarly, some couples find caterers that will create the wedding cake as well as provide the other food, a move that makes the catering price go up while eliminating the separate wedding cake budget line item.
Additionally, your catering cost can vary depending on the time of year you choose for your wedding as well as the venue. If you get married when there's high demand, your price will be higher. There's more competition for the caterer's attention, so they may raise their rates accordingly.
If your venue is remote or doesn't have on-site kitchen amenities, your cost may go up, too. Your event isn't as simple to manage or as convenient as something nearby that has the right facilities. As a result, it takes more time and energy (and, potentially, more caterer-provided equipment and clean-up), leading to a higher price.
Finally, it's also customary to tip your caterer. In some cases, the tip will be covered in your contract, usually labeled a "service fee." However, that isn't always the case. When that happens, you may need to plan on having to spend an additional 15 to 20 percent of the total wedding food cost as a tip.
The Average Catering Costs Per Person
There is some debate regarding the average catering cost per person for a wedding, mainly because there is limited data on this single line item. However, for a plated meal, the average is likely between $40 and $85 per person. If you opt for a buffet, $25 to $35 may be closer to the average cost. For hor d'oeuvres-only, you may pay about $15 to $25 per guest, suggesting there is no waitstaff involved, and you don't focus solely on high-cost options.
If the caterer is handling a full open bar, expect the price to go up by another $15 to $20 per person. If you limit it to just specific wines and beers, you may be able to get that down below the $15 per-person mark, as liquor is typically more expensive.
How Much It Costs to Cater a Wedding for 50?
Based on the averages above, catering a wedding for 50 could run between $750 and $5,250 before the tip. On the low-end would be a budget-friendly hors d'oeuvres-only approach without any bar services ($15 per person). On the upper-end is the highest point on average catering costs per person ($85) as well as the higher average for a full bar ($20).
However, these are just estimates based on averages. Some couples choose catering options that are particularly luxurious, leading the meals along to run $100+, let alone any bar services. Other couples may be able to drive their costs below that range by going alcohol-free and choosing the lowest cost hors d'oeuvres they can find.
Ultimately, that should give you a solid idea of what wedding catering for 50 people can cost. Consider your budget and determine your priorities. That way, you can choose an approach that won't break the bank, ensuring your wedding is enjoyable and affordable.
Do you have any tips that can help a couple manage their wedding catering costs? Share your thoughts in the comments below.
Read More: