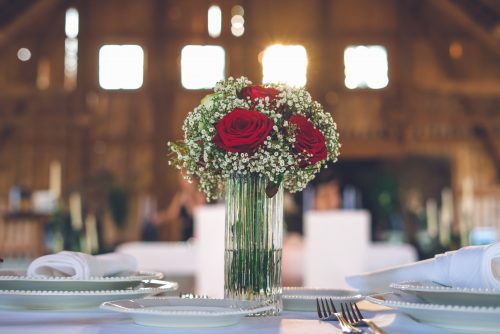 Small wedding venues in Texas can be an excellent choice for many couples. Often, choosing a smaller venue helps keep your costs low. As a result, you may be able to host a luxurious event without breaking the bank. Even if your budget is a bit tight. Plus, many small wedding venues make planning easy. They commonly offer packages that can assist with much of the planning. This ensures couples can have their perfect day without all of the stress. If you're looking for a standout small wedding venue in Texas. Here are some stellar options.
1. Prince Victorian Estate – Fort Worth
The Prince Victorian Estate is a B&B that offers a countryside setting without being far from the hustle and bustle of the Dallas-Fort Worth metro area. The five-acre property is ideal for outdoor weddings. It offers up lush landscaping that can serve as an exceptional backdrop to any reception or ceremony.
The rose garden is particularly nice for wedding photos when it's in full bloom. If you're looking for a great spot to exchange your vows. The gazebo can be an exceptional choice.
Plus, there are many more service options available. Tent receptions can be set up onsite, and catering is available, as well. The venue also has décor rentals available. Which streamline any decorating needs couples have significantly.
For added convenience, the Prince Victorian Estate has a variety of wedding packages available. You'll be able to choose one that fits your needs and budget. And there are never any hidden fees or costs once you do.
2. Inn on the Riverwalk – San Antonio
Located in downtown San Antonio, the Inn on the Riverwalk is perfect for an intimate ceremony. The venue can host up to 50 attendees. Which includes the couple and wedding party. Since it's also a B&B, it can even provide accommodations for the couple or out-of-town guests.
For your ceremony, you can exchange your vows outside along the banks of the Riverwalk and underneath breathtaking shade trees. For your reception, you can head into the dining room or enjoy the fresh evening air by taking advantage of the inn's back deck.
Plus, the venue offers affordable packages, ensuring there's something available for any budget. When you want a cost-effective elopement ceremony or a full-scale event, there's an option available that will meet your needs.
3. Scenic Springs – Helotes
If you want a luxurious wedding without all of the planning stress, Scenic Springs may be the perfect choice for you. The venue itself is beautiful, offering up showstopping outdoor spaces that can make exceptional backdrops for your ceremony or reception.
The setting is rustic but refined. There's a fabulous stone patio, generously-sized gazebo, large shade trees, comfortable open meadows, a large indoor event room, and much more. Additionally, onsite accommodations are available for rent. This can be ideal if you have out-of-town guests, need space to get ready for your big day or want to start off your honeymoon without having to leave the area.
Plus, when you chose Scenic Springs, you get full support from wedding planning experts. They can assist you with all of your planning needs, ensuring your wedding is stress-free and exactly what you pictured.
4. Lone Star Mansion – Burleson
Lone Star Mansion is a breathtaking venue located near the Dallas-Fort Worth area. The mansion features neoclassical architectural elements that are sure to impress, as well as an ample brick staircase leading up to the building that's great for wedding photos.
The Ballroom is a great option for a ceremony or reception. It features towering windows, allowing natural light and nature views to be enjoyed while inside. You can also choose the Carriage House for your event, a slightly rustic indoor space with enough space for a lively reception.
If you prefer an outdoor event, there are several spots to choose from if you go with this venue. There's a magnificent white metal bridge and gazebo that can be perfect for your ceremony or wedding pictures. You can also take advantage of the onsite fountain, as well as the full shade trees, pool, and more.
For added convenience, there are a variety of packages available that can simplify planning. Plus, the venue can prepare delectable hors d'oeuvres, full meals, and anything in between, ensuring you don't have to worry about the quality of your catering.
5. The Oasis Lake Travis – Austin
If you're looking for a waterside small wedding venue, The Oasis Lake Travis is an excellent choice. The venue is full-service, making wedding planning as easy as possible. You'll have access to a wedding coordinator who can help you figure out the details, ensuring your big day is as amazing as you pictured.
Overall, the venue is rustic but polished. Outside near the water is a beautiful archway located on the Lakeside Terrace that can serve as a great spot for a ceremony if you have no more than 50 guests. There are also open deck areas and indoor spaces, such as the Sunset Villa or Lone Star Room, giving you enough room for a lively but intimate affair.
Do you know of any other amazing small wedding venues in Texas? Share your thoughts in the comments below.
Read More: