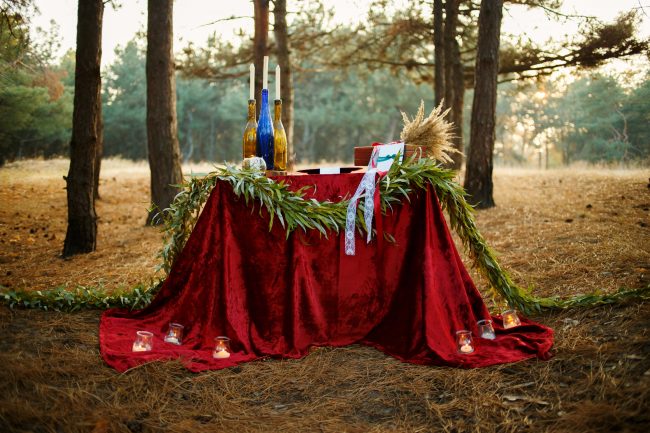 When you want to keep your wedding budget in check, going the DIY route can be a smart move. You'll only have to pay for supplies, allowing you to save by avoiding labor costs. Plus, you'll be in full control of each project you take on, ensuring it comes out just the way you like. If you want to find some great projects for your big day and aren't sure where to begin, here are some fantastic DIY wedding ideas for fall.
Fall Gourds as Centerpieces
Creating table centerpieces is often a big undertaking, particularly if you're having a larger wedding. However, you can simplify things dramatically by skipping formal centerpieces and going with an organic display of fall gourds.
With fall gourd centerpieces, you simply need to buy a selection of gourds in different shapes and sizes. Then, you strategically set them down to create a little display.
If you want to take it up a notch – or if most fall gourds don't naturally align with your color scheme – you can spray paint the surfaces to add more color. Gold and silver spray paints can add a touch of glamor, or you could use spray glue and glitter to introduce some sparkle. Then, put a few flameless votives around for flickering light, and you've got a lovely display.
You could also incorporate some antlers into the mix if you'd like. Deer shed their antlers every year, so it's possible to purchase enough antlers that dropped naturally to create your displays. However, you can also go with faux antlers if you prefer.
Pinecones for Place Card Holders
If you're looking for a natural and rustic place card holder option, pinecones could be your answer. All you need to do is use a handsaw to make a slot for the card, and it's ready to go. Just make sure that when you search for pinecones, choose ones that can stand with the tips of the scales pointing up.
You can either leave the pinecones natural or add a bit of color with some spray paint. Coating just the tips of the scales in glue and then rolling the pinecone in glitter can add sparkle, while just painting the ends of the scales brings in a hint of color while keeping most of the pinecone natural.
For an alternative approach, you could also use small pumpkins. You'll need to choose pumpkins that sit fairly flat and that have stems that extend above the top of the gourd itself. Then, cut into the stem to create a slot for the place card.
Natural Wood Table Number Stand
Similar to creating the pinecone place card holders, you can make a natural wood stand for table numbers using a branch or log. Choose one with a diameter near four inches. Then, cut the lengths based on the preferred height of the stand (usually somewhere in the six-to-eight-inch range).
Once you have the lengths, make sure the bottom of the piece is flat, allowing it to stand up without any extra supports. Then, use a slim handsaw to cut a slit into the top, giving the table number card a place to sit.
Leaf-Covered Mason Jars
With a bit of decoupage glue, some mason jars, twine, and a bag or two of fall leaves (real or fabric), you can create lovely seasonal jars to use as décor. You simply stick the leaves to the outer surface of the jar using the decoupage, overlapping the leaves in some areas to create new shades and to add a bit of depth.
Once everything is glued down, let the leaves dry in place. Then, take a piece of twine and wrap it around the mouth of the jar a time or two and tie a bow. Place some flameless votives, or battery-operated LED fairy lights inside, and you've got a lovely piece of fall-inspired décor.
Pallet Signs
If you enjoy a rustic look, pallets can be turned into excellent signs. Choose pallets that are reasonably tall when sat on one edge. Then, choose an approach for adding words.
For example, you could use stencils to paint messages right on the pallet wood or hang a banner across it. Marquee letters might work, as well, allowing you to add a bit of light to the design.
After that, weave a bit of greenery (real or fabric) through the slats in a few places to add an organic touch. Then, it's ready to go.
Tissue Paper Pom Pom Chair Décor
If you want to add a bit of color along the aisle, making tissue paper pom poms in your chosen color scheme is an easy, cost-effective option. All you need is some tissue paper (preferably 20-inch square), floral wire, and string.
There are a lot of different techniques for creating tissue paper pom poms, so do a little research to see which style catches your eye. Then, find a simple set of directions, and you'll be on your way to creating personalized wedding décor that matches your color scheme.
Technically, you could even use the pom poms to create a bouquet. Whether you want to use it as a bridal bouquet or as one for the wedding toss, it's an excellent option for reducing your flower costs while adding some fun color and texture.
Wood Ladder Arch
For another rustic touch, using wood ladders to create a wedding arch could be an excellent choice. All you need is two stepladders and one straight ladder. Just make sure that the stepladders are tall enough when opened and that the straight ladder is long enough to cover the ideal span across the top.
After opening the stepladders and putting them into position, you place the straight ladder across the top and secure it in place. You could choose to nail it together or use another approach. Just make sure it'll stay put.
Once you have the arch built, you can decorate it however you please. The steps on the stepladder may support small jars or vases, of you can use them to hang items. You could also weave greenery, ribbon, or fabric through the stepladder and straight ladder rungs or use a nearly endless number of other creative approaches.
Do you know of any other amazing DIY wedding ideas for fall? Have you tried one of the projects above and want to discuss the results? Share your thoughts in the comments below.
Read More: