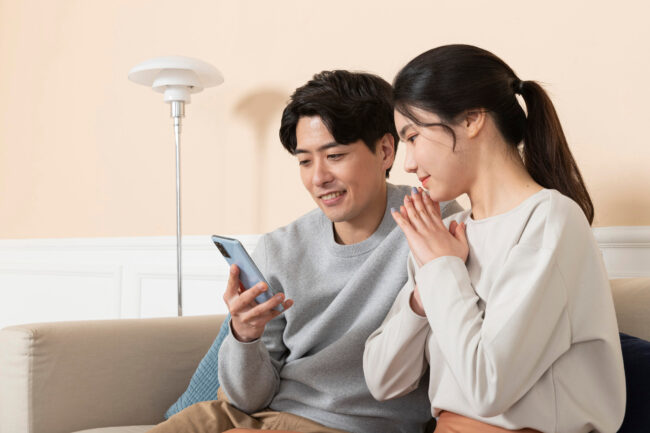 Not all budgeting apps are designed with couples in mind. But Zeta isn't like other budgeting apps. It allows multiple users to connect through the app, making planning as a pair far easier. Plus, it's got some solid features beyond basic budgeting. However, that doesn't mean it's right for everyone. If you're looking for a new budgeting app, here's a look at what Zeta has to offer and whether it's the right fit for newlyweds.
What Zeta Is and How the App Works
Zeta is a budgeting and expense tracking app designed with multiple users in mind, particularly couples. It allows a household to create shared budgets and monitor various accounts, both joint and personal. Plus, it has options for bill splitting, goal sharing, and bill tracking.
Along with bank accounts, couples can add loans and credit cards to the app. With any account, there are manual and automatic syncing options, making it simple to stay on top of account activity.
When it comes to budgets, couples can create more than one. For instance, they could each have a personal budget and a joint budget together, making it easier for couples who maintain a degree of autonomy to run a household while handling their personal responsibilities.
Multiple goals are also an option. Couples can set targets for an emergency fund, future holiday shopping, vacations, vehicles, and more.
Finally, you can program your monthly bills into the app. That way, both spouses can see what's on the horizon, making it easier to plan for expenses and avoid late payments.
Zeta: The Pros and Cons
Pros
The biggest benefit of using Zeta over some other budgeting apps is that it's designed with couples in mind. You can include personal and joint accounts, track shared expenses, and monitor goals you're both pursuing, all from a single app. It's critical to note that Zeta is free, too, something that isn't true of all budgeting apps.
Zeta also includes some privacy features. That means you can add personal information without all of it being viewable by your partner. For example, if you have a savings account to stash money for your spouse's upcoming birthday gift, you don't have to make that viewable to them but can still include it in the app for your benefit.
Creating and sharing budgets is a breeze. The app allows you to add amounts for common categories in just a few taps. Plus, you can create custom ones if you have an expense that doesn't align with the available options.
Cost splitting features add an extra level of convenience. You can track who needs to contribute what based on the expense involved, and you can even send notes to your partner to keep them up to date about the cost.
Setting up and sharing goals is also incredibly easy. Choose a goal option, decide if it's personal or shared, and track your progress all from the app. Similarly, bill paying reminders are fast and convenient to create, ensuring you won't miss a due date.
Generally speaking, it's simple to connect your accounts. The app can link to thousands of institutions, including many regional banks all across the country. In most cases, the connection process only takes a few moments to complete, making it relatively quick to get every account added, even if you have several. However, you can also keep things manual, if you prefer.
Cons
Zeta doesn't have a ton of drawbacks, but the few that are there are worth noting. First, while you can track loans and credit cards through linked accounts, that option isn't available for other kinds of bills. While it's true that many budgeting apps don't have that feature, there are some that do, so keep that in mind if bill tracking is your top priority.
If you were hoping to use a budgeting app on a tablet, then Zeta might not be the best fit for you either. It isn't optimized for tablets, so the app is either challenging or impossible to use that way, depending on the features you want to access.
Another point where Zeta falls a bit short is that progress tracking for financial goals is manual. Even if there is a matching category in your budget or an account that serves no other purpose than supporting a goal, that won't trigger an automatic update, so keep that in mind.
Zeta can also be a bit on the slow side operationally. If you like to move through an app as quickly as possible, that could make Zeta a frustrating experience.
Is Zeta the Right App for Newlyweds?
Ultimately, Zeta is a solid choice for newlyweds that want a budgeting app that allows them to work together while keeping certain financial points separate. You can make joint and personal budgets and goals, share or hide accounts, and otherwise decide how your financial lives intermingle. As long as you are comfortable with the drawbacks, that makes it a solid choice, especially since Zeta is free.
However, if you were looking for bill syncing, tablet optimization, or automated goal progress tracking, then you may want to explore alternatives. That way, you can find a budgeting app that genuinely meets your needs.
Do you think Zeta is the right budgeting app for newlyweds? Have you tried it and want to tell others about your experience, or do you prefer another budgeting app? Share your thoughts in the comments below.
Read More: