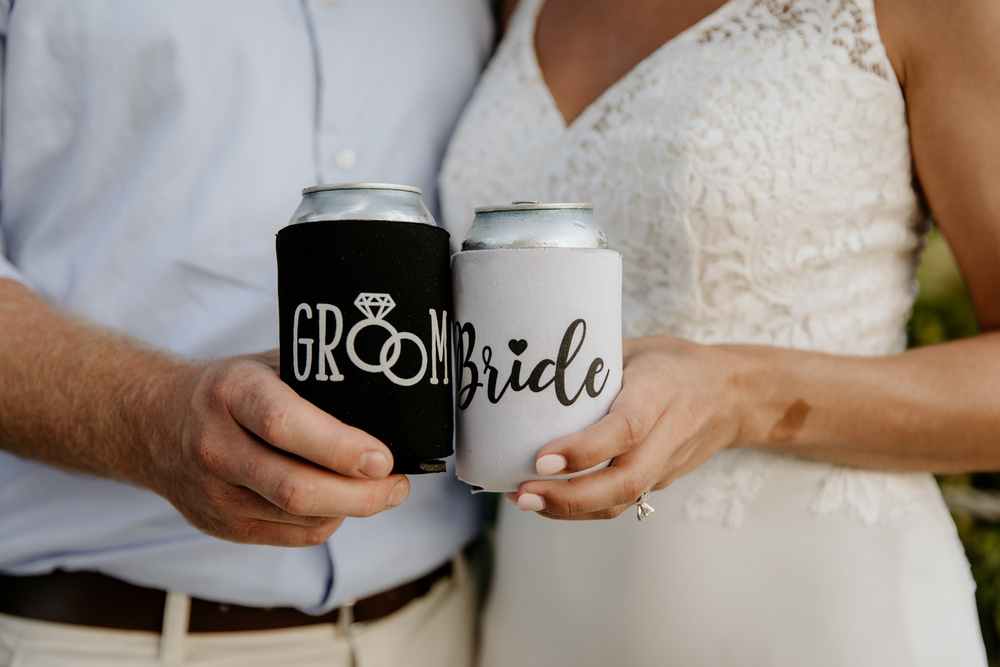 When planning your wedding, it's easy to get preoccupied with all the décor ideas needed to make your big day memorable. Thus, one detail that you might overlook are wedding koozies. These are charming insulation sleeves with printed designs that can help keep the drinks cold throughout the reception party. 
Koozies, in particular, are a popular wedding decoration choice because they're relatively inexpensive, add a personal touch to the whole event, and can be completely customized to suit your other wedding themes and ideas. Additionally, you can use your koozies to share a special message with your guests as a fun way to get them to socialize and interact with each other. Fortunately, there are plenty of design ideas to inspire your creativity. 
Here are six custom wedding koozie ideas to impress your wedding guests: 
One way to make your koozie design truly unique is to commission an artist to make an artwork illustration for your wedding. This can be art that takes up the entire canvas of the koozie or an image in the center that's meaningful to you and your fiancé. 
You can choose a specific art style that you think will complement your wedding themes, such as a vintage-inspired oil painting or a glossy-looking digital portrait of you as a marrying couple. The best thing about customized wedding koozies for your event using artwork is that the print will be one of a kind to immortalize your special day.
Your wedding invitations are an excellent source of inspiration for your koozies. You can keep your invitation's theme consistent by incorporating the same design elements, such as color palette, decorative floral patterns and embellishments, images, or font style, among others 
To make sure your invitation design can fit onto the koozie, try and choose one defining element to use as the eye-catching center point. This can also make the koozies stand out as their own special part of the wedding memento.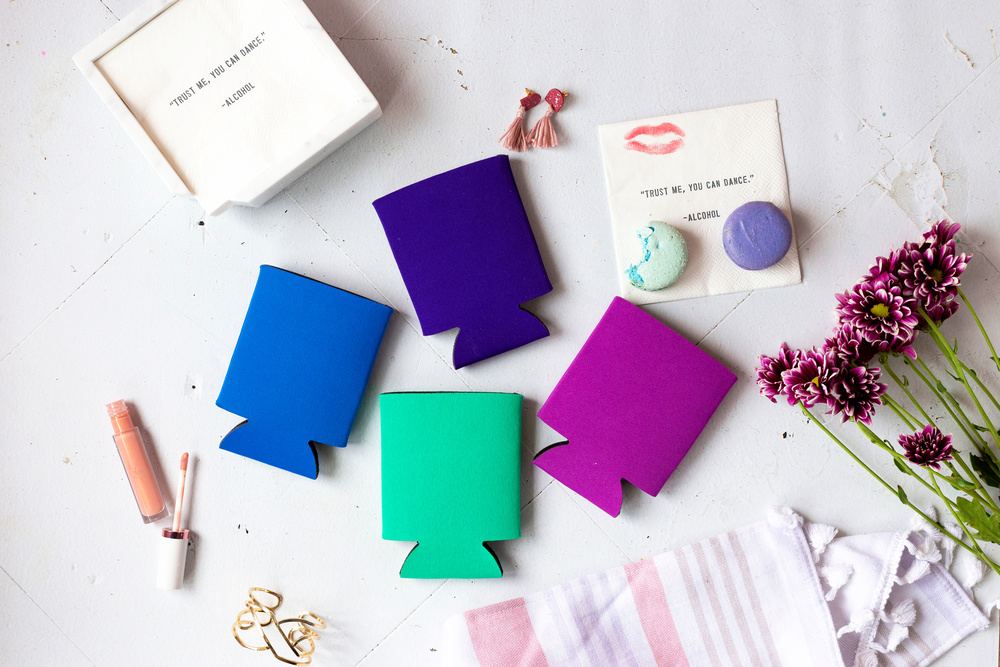 It's most likely that you've chosen your wedding venue because it's a beautiful and romantic place that has a special significance to you and your fiancé. Thus, you can use it as an image source for your koozie, whether it's the building itself, especially if it has interesting architecture, or the landscape where it's situated, if it's outdoors. To have the best of both worlds, you can include both and have a variety of different venue images.   
Furthermore, if you have distinct element that you want your guest to remember, you can use that as your imagery.
You can have pictures taken of your venue beforehand and sent to an illustrator to turn it onto a printable image for your koozies.  
What better way to add a touch of wedding romance to your koozie design than to incorporate your wedding season's colors. For fall weddings, you can use colors that range from burnt orange and deep burgundy to iconic fall-time images, such as white maple leaves and other types of foliage, pumpkins, and candle silhouettes. 
The winter color palette consists of powder blue and white, and can feature snowflakes or a forest that evokes winter wonderland imagery. On the one hand, spring and summer wedding koozies can make use of bright pastel tones to keep things elegant, images of blooming flowers, and silhouettes of popular summer drinks that match the beverages served at the wedding, among others. 
Decorative handwriting or calligraphy is a popular wedding design idea if you want to personalize the names of your guests, or your own and your partner's names onto the koozies without adding images. You can also calligraph your initials or wedding date, or include fun and catchy wedding-themed phrases in your favorite font. 
To make it more personal and sentimental, you can handwrite the words and phrases yourself. A great idea is to use parts of your marriage vows as the written text, and then have them printed onto the koozies for guests to keep.
Minimalism has been embraced as a wedding design aesthetic because it focuses on simplicity, elegance, and taste. It can, therefore, highlight one feature of your koozie and make it striking and noticeable. 
You can create a small illustration of your joined wedding rings in the center or corner of your koozie using two tones or a lace pattern on the edges, for instance. You can even choose a gradient of colors without any images for an effortless and refined wedding koozie look.
One of the advantages of minimalist design is that it's the most DIY-friendly approach if you want to make the koozies yourself. 
Conclusion
There are endless design ideas for you to include a personal touch into your wedding using customized koozies. You can take inspiration from your wedding colors, themes, or the season in which it's taking place.
For the design, you can get printed images of special places to you as the marrying couple, such as your wedding venue, an artwork illustration, or a simple minimalist visual idea. Or, you can skip images altogether by opting for self-written texts of meaningful phrases or even your vows to make your koozies truly special and unforgettable.