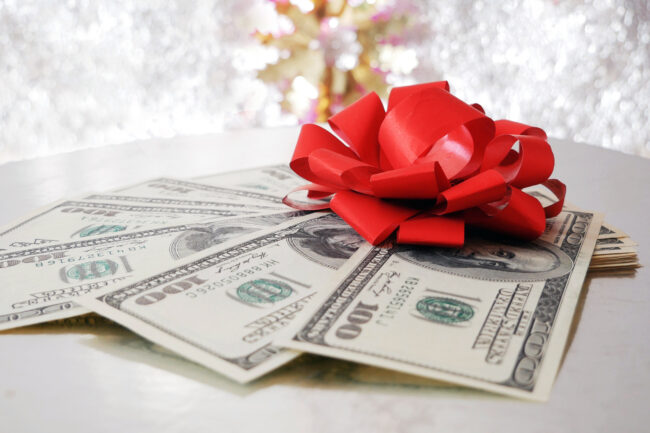 Preparing to spend your first Christmas together as newlyweds is an exciting time. But for many, figuring out how to stay on budget is also challenging. Both partners may have holiday spending habits that don't align with the other, which may lead to incidental overspending. Plus, growing up and embracing different conditions could lead to costs that the other doesn't expect. Fortunately, it's possible to navigate this situation and keep spending under control. Here's a look at how newlyweds can save money on their first Christmas together.
Create a Gift Budget
Sitting down together as a couple and creating a gift budget is an excellent way to avoid overspending. Make a list of every person you'd each like to buy a gift for and assign a spending cap to every person. This gives you a chance to see exactly how much you'd potentially spend in total on gifts, allowing you to see if it's affordable. Plus, it reduces the odds of a budget-budget spontaneous purchase.
When you're creating a gift budget, you're also creating an opportunity to discuss each other's gift-giving philosophy. By understanding the "why" behind buying presents for people on the list and the goal you or they want to achieve with the gift, it allows you both to learn what's motivating the other this holiday season. Often, it's pretty enlightening, and it can help you find out why you both do what you do.
List Gift Ideas for Each Recipient
After creating your gift budget, brainstorm a few ideas for presents for each person. Along with streamlining your shopping and reducing the odds of budget-busting impulse purchases, this creates opportunities to be frugal.
You can determine if specific gifts fall outside of the budget you've outlined before the shopping begins. If they do, eliminate them from the list of options. Alternatively, if you have a higher-cost gift on the list that's a perfect choice but generally unaffordable, you can see if others want to chip in to make it happen. For example, coordinating with siblings to get more expensive gifts for parents can simplify Christmas shopping for everyone while being budget-friendly.
Embrace Comparison Shopping and Rebates
Comparison shopping allows you to find a suitable gift at the best possible price. As you look for items on the gift list, check local stores and online retailers to determine where the deals are and how much savings you can secure.
Make sure to factor in the cost of sales tax, shipping, and gas, as both can vary dramatically. With some online retailers, you might not pay sales tax at all, but any savings could be offset by shipping expenses. By heading to a brick-and-mortar store in another town, you may pay less or more in sales tax than you would at locations near your home, and you'll also have costs associated with driving there.
As you shop, look for rebates through apps like Ibotta or sites like Rakuten. The cashback you earn can reinvigorate your budget once you're able to cash out, so see what's available on items you were going to buy anyway.
Avoid Going Overboard on Christmas Décor
As newlyweds, you might not have a collection of Christmas décor that you can use to decorate this year. While it's often tempting to buy a lot of new decorations to celebrate the season in your home, resist the urge to get everything this year. Instead, focus on a signal vignette or area. For example, get décor for just your coffee table, mantle, or Christmas tree.
When you buy décor, concentrate on affordable basics. Then, after Christmas passes, take advantage of post-holiday sales to get more decorations for next year.
Take Advantage of Gift Card Deals
During the holidays, deals on gift cards are commonplace. While most of these are packs with bonus cards – allowing you to give gift cards to others and keep a small one for yourself – you don't have to treat them that way.
If you see a discounted gift card pack for a store that you'll shop at during the holidays, get the pack for yourself. Then, use it to purchase gifts for others, food for your home, or other planned items. By going this route, you may save 10 percent or more just because you took the extra step of buying the discounted gift cards, making the effort worthwhile.
Similarly, if purchasing specific gift cards gets you loyalty points or cash back through rebate apps and websites, consider using the gift cards for your holiday shopping. In either case, you can come out ahead. Just make sure the amount of the gift card aligns with or is less than you'd need to spend, ensuring you don't overspend on credit at a store that you won't use.
Go with Holiday Treats for Some Gift Recipients
In some cases, baked goods and similar holiday treats make excellent gifts. By making them yourself, they're also significant cost savers. You can bake cookies en masse and divide them up to use as gifts. Then, find low-cost containers at dollar stores or through sales as major retailers, and you're good to go.
Potluck for Holiday Meals You're Hosting
If you're hosting a holiday get-together as a newlywed couple, make the event a potluck instead of cooking the entire meal yourself. A straightforward way to handle it is to cover the main part of the entrée yourself and request that all attendees bring sides, desserts, or drinks. Usually, that option is best since the entrée may require on-site cooking beyond what's needed to reheat sides.
Just make sure to coordinate with attendees to avoid repeated sides or desserts. One simple approach is to create an online signup sheet using Google Sheets or Docs that everyone can access. Outline the sides and drinks you need, as well as the type or number of dessert items. Then, request attendees put their name next to what they're bringing, allowing everyone to see which dishes are spoken for and which are still available.
Consider a Friend Circle Secret Santa
If you and your spouse have a tight friend circle and everyone's friendly with each other, consider arranging a Secret Santa exchange for the group. It's a money saver all around, as anyone participating will only need to buy a gift for one friend instead of all of them. Plus, it's a great excuse to get together during the holidays.
When setting up a Secret Santa, make sure to set a gift price limit that works for everyone's budget. Along with making the event more affordable, that keeps the gifts comparable. Also, take advantage of free Secret Santa websites like DrawNames. DrawNames will handle the random drawing of names and allow participants to create gift lists, making it easier for everyone to shop for their assigned person.
Only Spend on Your Needs
The holiday season includes an onslaught of sales and marketing efforts, all designed to tempt you into buying "wants." Even if the deals are good, spending money on your wants while also trying to handle holiday costs can quickly derail your budget.
Until the holidays pass, only spend on your needs to keep your budget in check. For example, avoid the temptation to buy a new outfit for a holiday party. Instead, use what's available in your closet. Don't purchase new small kitchen appliances if you can handle a task without them.
Get Comfortable with "No"
Newlyweds may get invited to a wide array of events during the holiday season, and that can lead to unexpected costs. Secret Santa or white elephant gift exchanges at work, meals at relatives' homes that are out of town, and similar invitations are common this time of year.
While it's normal to want to attend or participate, understand that saying "no" is an option in most cases. By declining, you're avoiding a potentially unnecessary cost. Since that's the case, politely decline invitations for events that aren't genuinely important to you.
Do you have any tips that can help newlyweds save money on their first Christmas together? Were you not concerned about your budget for your first Christmas and accidentally overspent? If so, how did you recover? Share your thoughts in the comments below.
Read More: