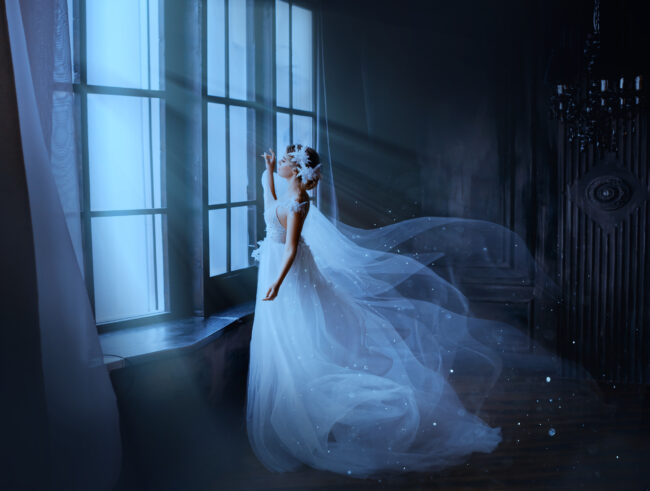 Finding the perfect wedding dress often feels like a challenge. Fortunately, you don't necessarily have to spend hours at a bridal store to find the ideal option. There are plenty of elegant wedding dresses available online, including at Amazon. Along with being beautiful, many of them are surprisingly affordable, making them excellent options for budget-conscious shoppers. Here's a look at five elegant wedding dresses from Amazon to dazzle the crowd at your wedding.
1. Sleeveless Lace Bridal Gown by Abaowedding
If you prefer a sleeveless design by appreciate the support offered by straps, this lace bridal gown by Abaowedding is an excellent option. It has a classic sweetheart neckline with lace straps that connect across the back, making the design feel elegant and a tad modest. The chiffon skirt is essentially an A-line, making it comfortable and suitable for a variety of body types. There's also a corset-style crisscross back, giving it some extra detail.
One nice feature of this dress is that the position of the waist can allow it to work as a maternity wedding gown, adding some versatility. The price also makes it very affordable, while the shape keeps everything comfortable.
2. Lace Long Sleeve Off Shoulder Wedding Dress by Lalagen
If you like the idea of having sleeves but want to add a touch of romance, this off-the-shoulder design by Lalagen could be your perfect option. It's a mermaid dress, so it does an excellent job of highlighting curves. Plus, it just barely touches the ground in the back (depending on your height and whether you wear heels), which makes it easy to move around in during the ceremony and reception.
This dress also has a bit of stretch, which keeps it comfortable. The lace adds elegance, giving it a romantic touch. Plus, the price is very affordable, which could allow it to work as a separate reception dress if you prefer something more traditional for the ceremony.
If you're concerned about long sleeves, there is a short-sleeve option, too. Plus, you can get it in colors other than white if you prefer a non-traditional hue for your big day.
3. Lace Halter Dress by Wedtrend
Halter dresses are popular because they can offer support, and the design tends to be more modest. This lace halter dress by Wedtrend is also incredibly elegant, displaying a floral pattern across the next and bodice. The A-line skirt keeps things comfortable, as well, while the chiffon skirt keeps everything feeling soft and flowy.
Another great part of this elegant wedding dress is the price, as it's very affordable. As a result, you may have more to spend on accessories or tailoring, should that be necessary. Just be aware that it tends to run small, so check the sizing information to make sure you purchase the correct size.
4. Floral One-Shoulder Empire Waist Dress by Ever-Pretty
For a simple design with a lovely silhouette, this one-shoulder empire waist dress by Ever-Pretty is an excellent choice. The single shoulder strap has flower details, adding a touch of romance. The higher waist is also very forgiving, ensuring the dress is comfortable whether you're sitting, standing, or dancing. Plus, the bust is padded, which could make a bra unnecessary. Couple that with the sweetheart neckline, and the final look is incredibly elegant.
The flowy A-line creates beautiful lines without feeling confining. You can also get matching dresses in other colors that could serve as bridesmaid dresses, creating a cohesive look while still allowing the bride to easily stand out from the crowd.
5. Ball Gown Bridal Dress by Likedpage
For brides that prefer a ball gown, this bridal dress by Likedpage is a standout option. It's incredibly affordable and offers a classic silhouette, including a full skirt, fitted bodice, and sweetheart neckline. The skirt features tulle and satin, making it flowy while keeping some shine. The bodice has beads and sequins, giving it a touch of sparkle.
The corset back also gives brides the ability to adjust the fit. As a result, they can modify the silhouette to create a slimmer look or provide themselves with enough room to feel very comfortable, all while ensuring the bodice stays in place.
Even with all of the details, this dress doesn't feel like too much. Instead, it maintains a classic elegance by balancing the adornments with simplicity. Plus, due to the price, it's easy to add your own embellishments or accessories to adjust the overall look, allowing it to serve as the perfect foundation.
Which of the elegant wedding dresses above is your favorite? Can you envision wearing one of the gowns above on your big day? Share your thoughts in the comments below.
Read More: