One of my 2012 goals was to continue to grow the blog.
At the end of 2011, I had just started getting into advertising on my site and the money I was making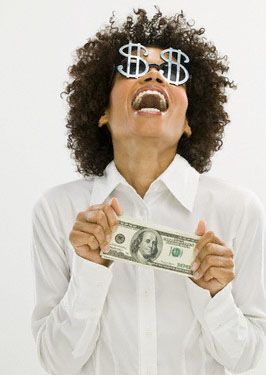 had me seeing dollar signs in my eyes.
For the first few months in 2012, I was busting my butt. I became obsessed with my PageRank, checked my Alexa score almost every day, researched SEO and stuck to a posting schedule.
The income kept rolling in and I couldn't have been happier.
Until one day, it all fell apart. Google performed some sort of update that penalized bloggers, like myself, who accepted advertisements from certain companies.
In one day, it felt like everything I had worked so hard for completely disappeared.
For a few weeks, I felt a little numb. And then I kinda felt stupid–I mean, what a blogging nerd, right? Who gets this upset over a blog?
Eventually, I came out of the spell and realized how much I preferred blogging without the pressure. Do you know how great it is to blog without feeling like I need to hit certain keywords?
My true voice comes out.
I can honestly say I can't remember the last time I checked my Google Analytics. The number of hits don't matter to me anymore–what really makes me happy is when I see a post that resonates with people, and when I read comments that literally make me laugh out loud, or nod my head in agreement. You guys seriously rock at giving advice!
Because what truly matters about blogging isn't numbers–it's about connecting. Reading other people's stories, seeing the challenges they go through, getting personal and making friends online.
How many times can you read a "Six Ways to Pay Down Debt" Post? Or "How to save money on a vacation"? Let me give you a tip: To pay off debt, you need to decrease expenses and make more money. It's that easy.
Kinda like losing weight–there's no magic potion, it's eating less and moving more! If we know the solution is so easy, why is it still so hard?
I know you don't come here to read the how-tos. You come here to read about how Eric and I struggle financially from time to time, but still manage to have an amazing life together–except for when he eats my cheese. Or about my obsession with babies even though I don't want them right now.
Some days I have so much to say. And others I don't. But it's my blog and I can write about what I'm thinking that day, without having to worry about SEO or how many hits it gets or anything like that.
Yeah, of course I want people to read my blog! Otherwise, I'd just have a diary. But it's so much more fun to get everyone's input on certain things. Have I mentioned that I love the advice you guys give?
So "Goal #10: Continue Growing the Blog" on the list of goals for 2012? Yup, I checked that off. I couldn't be happier with how my blog has grown.
Do you care about Google Analytics for your blog?