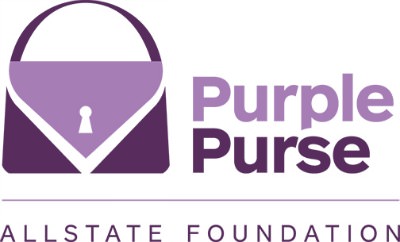 This is a compensated campaign in collaboration with Allstate Foundation® and Latina Bloggers Connect. 
Today's post is brought to you by my better half, Eric. 
Did you know that domestic violence affects 1 in 4 women in her lifetime? That's more women than breast cancer, ovarian cancer and lung cancer combined.
With the recent brouhaha regarding Ray Rice knocking out his wife in a hotel elevator, domestic violence has come to the forefront of the American conversation.
It's kind of nuts, really, because the NFL is supposed to showcase these manly men doing guy things–what kind of man doesn't dream of getting paid millions of dollars to play football?? And yet, hitting your wife, or any woman for that matter, is one of the lowest things and un-manly things you could possibly do.
It takes a real man to say no to domestic violence.
The Allstate Foundation Purple Purse aims to make it fashionable to talk about this very difficult topic. Kerry Washington, Scandal star and one of my wife's favorite celebrities (and she has a lot!), is serving as a Purple Purse ambassador to help raise awareness for the cause and has designed a limited-edition purple purse.
You can also turn any purse into a Purple Purse by opening your heart and wallet. The Allstate Foundation is widely distributing Purple Purse charms so you can show your support and attach to your favorite bag year round. They are being distributed with inspiring survivor stories through Purple Purse Challenge participants and Allstate agency owners.
More than $500,000 has been raised on the site so far, and Allstate is doing their part by donating more than half a million dollars to the Purple Purse Challenge, where the money goes directly to nonprofits in your community that help domestic violence survivors.
And domestic violence doesn't just mean physical abuse. Financial abuse happens in 98% of all cases of domestic violence and is one of the most powerful ways to keep a victim trapped. How are women supposed to flee when their sole source of support is dependent on their spouse?
In fact, the number one reason domestic violence survivors stay or return to an abusive relationship is because they don't have the financial resources to break free.
PurplePurse.com has important tips and tools to help you recognize domestic violence and financial abuse.
If you or someone you know needs immediate help, call the National Domestic Violence Hotline at 1-800-799-SAFE