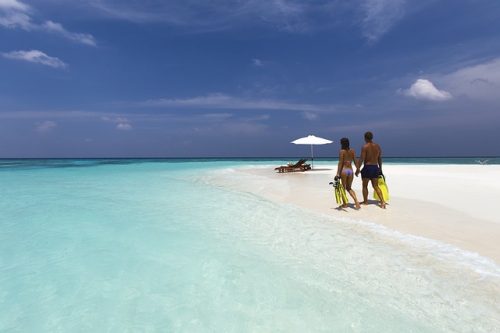 There are few things in life as enjoyable as a vacation getaway. But not every couple can immediately afford the luxury of travel, depending instead on careful budgeting, saving, and planning. Fortunately there are a variety of easy and creative ways to save for that dream vacation, and here are the top five:
1. Start a vacation fund.
The fastest and most methodical way to save money for your vacation is to open a travel account, to be used only for travel expenses. Talk with your bank about opening an easy, low-to-no-fee basic checking account, and set up a weekly deposit with your partner. This will also help you stay on budget during your trip, without emptying funds from your primary account.
2. Cut back on weekly luxuries (to enjoy the ultimate one!)
Weekly movies, dining out, and shopping trips add up fast, and consciously cutting back can save you precious vacation money in no time. For an added boost of encouragement, calculate and transfer the cash you'd spend on a night out to your vacation fund, and watch the sum grow.
3. Hold a garage sale
Selling unwanted clothing, electronics, and other household wares not only relieves you of burdensome clutter, but can earn you a tidy bit of pocket money. Sites such as eBay and Craigslist are also great for posting items and reaching a wider buying audience.
4. Apply for a travel grant
If one or both of you are professionals in a field in which the region you're traveling to pertains, you may qualify for a grant. While travel grants generally won't fund your entire trip, they'll definitely offset a portion of your expenses. For further information check out Melanie Pinola's helpful article.
5. Minimize your bills
If household utilities eat up a large portion of your paycheck, discuss ways to pare down. Instead of cranking up the thermostat, throw on an extra sweater; conversely, invest in ceiling fans for warmer months to cut back on a/c use. Cancel your cable television for awhile and watch your favorite movies and shows through popular online streaming programs.
Additional Tips:
*Be flexible.
While it's recommended to book your flight as early in advance as possible, there are a number of last minute airfare deals available online. Matthew Kepnes of timemagazine.com writes, "A minor tweak in your travel plans can save a bundle. Fly midweek instead of on the weekend; fly with stops instead of direct. Small changes can save you hundreds of dollars."
*Consider off-season travel.
Some of the best vacation spots offer discount holiday packages for couples traveling off-season. Airfares drop considerably as well, sometimes as much as half the amount of peak season cost.
*Skip the larger chain hotels.
House sitting, airbnb.com, and smaller, privately run hospitality establishments are not only on trend these days, but can save you massive amounts of money. There are a number of reputable sites that specialize in matching up homeowners with house sitters, as well as organizing vacation "swaps."
Join our newsletter
Get the latest content straight to your inbox.