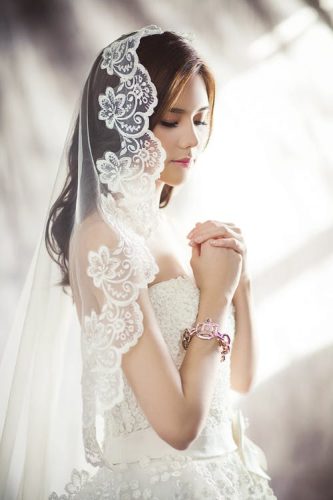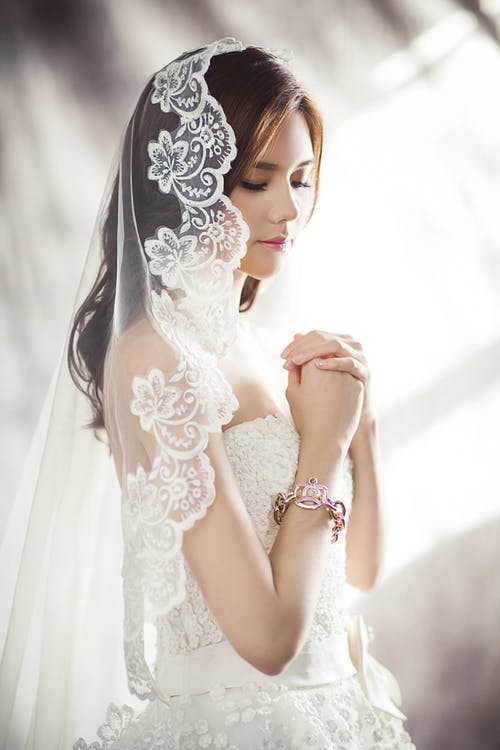 Everyone wants their wedding to be magical, and that often includes tracking down the ideal wedding and bridesmaid dresses. But bridal attire can be expensive, making it hard for budget-conscious brides to find what they want at prices they can afford. Luckily, there are some great options available that won't break the bank. Here are the 20 best places to find deals on wedding and bridesmaid dresses online.
1. Amazon
Amazon is known for carrying nearly everything imaginable. The retail giant actually has a category dedicated to wedding dresses, many of which are available with Amazon Prime Shipping.
The formal wear section on Amazon is also a great place to check out if you want low-cost bridesmaid's dresses. Plus, you can find deals on suits and tuxes, too, in the men's section.
2. Zappos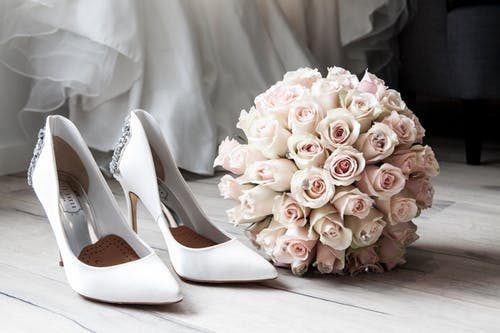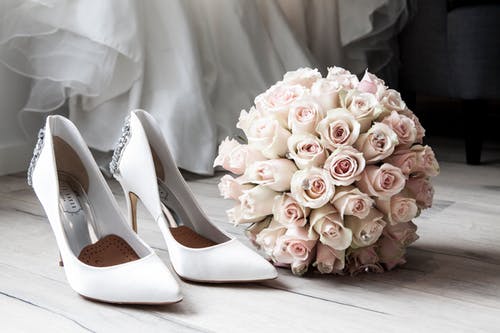 While Zappos made its name in the shoe category, it also has a great selection of wedding gowns, including some that cost less than $100. Bridesmaid's dresses are also available, including a few near the $100 mark. The retailer even carries tuxedos and, of course, a great selection of shoes and accessories.
3. David's Bridal
When it comes to wedding-specific retailers, David's Bridal is one of the bigger names in the game. It has wedding and bridesmaid's dresses available at nearly any price point. Additionally, the site's sale section offers some dramatic discounts, including a few wedding gowns below $200 and some bridesmaid's dresses under $50.
4. Nordstrom
Nordstrom has a great collection of wedding dresses, including many that are well below $1,000 and quite a few below $500. Plus, they have bridesmaid's dresses for less than $200 as well as a solid selection of tuxedos.
5. BHLDN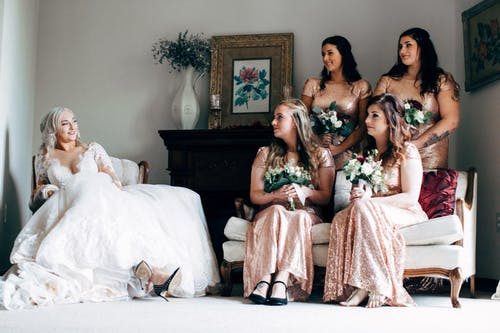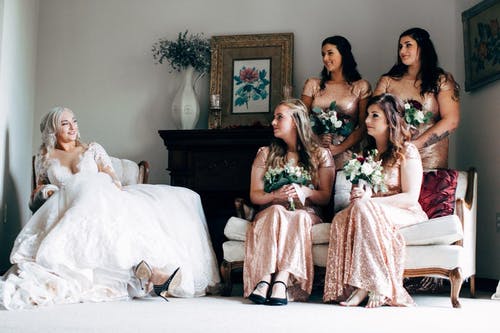 At BHLDN, you can find affordable options for both brides and bridesmaids. There are wedding gowns available for as little as $168, and the most expensive option comes in at a mere $2,100. For bridesmaids, there are dresses under $200, and nothing is more than $310.
6. ASOS
While ASOS is better known for every day and work attire, the company also has a bridal section. Almost every option falls under the $300 mark, making it an affordable option.
Plus, some of the items shown in the ASOS occasion wear section could work as bridesmaid's dresses. Many of those are under $100, so it is worth exploring if you have a tight budget.
7. Etsy
If you don't need your wedding or bridesmaid's dresses ASAP, then you might want to explore Etsy. Everything on the site is either handmade or vintage, and the prices can be surprisingly affordable. If you decide to order a "made just for you" creation, just be aware that it can take some time for the shop to sew up the dresses. Additionally, if it is an international store, shipping can take some time, so only head to Etsy if you have some time to spare before your big day.
8. Reformation
If you are looking for body-conscious designs for yourself or your bridal party, Reformation has a great selection, including a number of bridesmaid's options below $300. For wedding gowns, the most expensive option doesn't cross $530.
9. H&M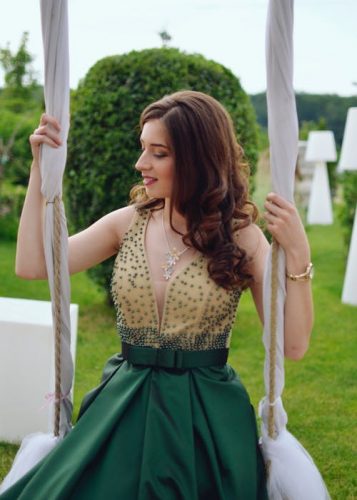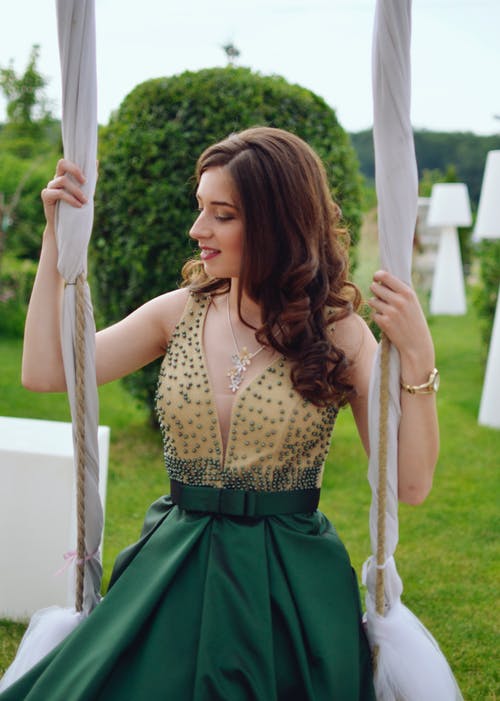 H&M, the fast-fashion retailer, launched a bridal shop not that long ago. While the selection is a bit limited, it is worth checking out if you want a wedding dress below $300. Additionally, some of the retailer's other party dresses could work for your bridesmaids, and many of those are under the $100 mark.
10. eBay
eBay has a surprising number of bridal and bridesmaid's dresses available, as well as tuxedos. While many of the options have been worn by someone else, you can also find new wedding attire items as well.
As with Etsy, you do need to be aware of potential shipping delays if you choose an international seller. Additionally, you want to read the description carefully to see if the item may be damaged in some way or has been altered for a previous wearer.
11. Nearly Newlywed
At Nearly Newlywed, you can find new and preowned wedding dresses at reasonable prices. This online retailer checks every dress before it is listed, verifying its authenticity and condition. As a result, you don't have to worry about being duped into buying a counterfeit dress or one that is damaged in a way that wasn't disclosed.
12. Lace and Liberty
An affordable option for budget-conscious brides, Lace and Liberty has wedding gowns, bridal separates, and accessories. The vast majority of the options come in under the $2,000 mark, which is much less than you might find at certain other retailers. Plus, you can use the Try On at Home program to see if you like a dress or set of separates in-person before you decide.
13. Fame & Partners
Fame & Partners gives you the option to completely customize wedding gowns and bridesmaid's dresses without having to break the bank. Some of the options are as little as $200, and you can add a range of touches (including pockets) to both gowns and bridal party attire.
14. Self-Portrait
British retailer Self-Portrait has recently gained attention after people like Kate Middleton and Paris Hilton donned some of the shop's dresses. The bridal section includes a variety of styles, and pretty much everything costs less than $1,000. Some of Self-Portrait's other dresses could also work for bridesmaid's, and the majority of those would cost less than $500.
15. Grace Loves Lace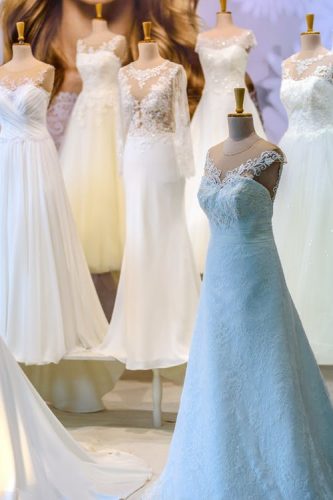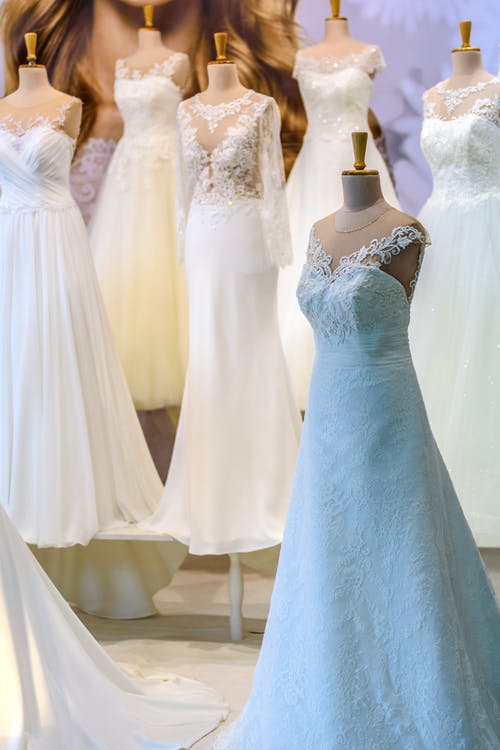 Grace Loves Lace has a unique claim to fame. One of the Aussie store's gowns became the most-pinned wedding dress ever on Pinterest, gathering over 2.5 billion pins. Here, you can find wedding dresses for as little as $770, as well as options for bridesmaids coming in below $500.
16. Dorothy Perkins
At Dorothy Perkins, you can find elegant wedding dresses for less than $250 with ease. Plus, the retailer has a great selection for bridesmaids as well, and none of those dresses cross the $200 mark.
17. Torrid
Torrid, a retailer that focuses only on plus sizes, launched a wedding shop after many of its white daytime dresses became popular options for brides. Some of the gowns are under $100, and the most expensive won't run you more than $270. Plus, they have a great selection of bridesmaid's dresses, too, all coming in under $200.
18. ModCloth
For bohemian or simple wedding dress styles, ModCloth is a great, affordable option. Even the most expensive dress comes in below $400, and many are less than $200. For bridesmaids, all of the options are less than $200 as well, making them very budget-friendly.
19. Adrianna Papell
If you're looking for beading, Adrianna Papell has wedding dresses with beading or sequins for as little as $200 and no more than $500. Plus, many of the special occasion dresses could also work for your bridesmaids.
20. Rent the Runway
If you aren't set on being able to keep your wedding or bridesmaid's dresses after the big day, then consider Rent the Runway. There, you can get access to dresses by many of today's most coveted designers at a fraction of the cost of buying. Just understand that these dresses are being rented, not purchased. You'll have to send everything back by the selected date. Otherwise, there are financial penalties.