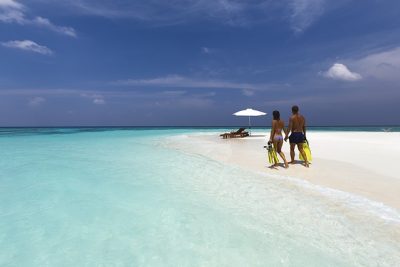 Most of the newlywed couples have their dream honeymoon plans for they wish to celebrate their marriage in a special manner. However, the budget factor often shatters all our honeymoon dreams; because after celebrating the grand wedding, most of the newlyweds are not left with enough funds to sponsor a nice honeymoon for themselves.
But, do we really need to entirely ditch our plans due to scarcity of funds?
The answer is a resounding NO!




Well, a honeymoon is a special phase and a memory that's cherished for live; and thus, it shouldn't be given up on due to something that is very much manageable. Now, you must be wondering that how exactly you can plan a budget honeymoon.
Here are some quick tips for you:
In case you've charged a share of your wedding expenses on your credit card, then making booking for your honeymoon is the perfect way to utilize the reward points that you might have racked up against your card all this while, suggests Alexandra Talty, the founding Editor-in-Chief of StepFeed, in a post published at Forbes.
You may redeem your bonus points against the airfares. Even if your account does not have sufficient air miles, you may opt for an upgrade to first class; so that you kick start your honeymoon with élan.
As we all know, airfares are comparatively cheaper during the mid of the week. Thus, if you're planning your honeymoon abroad, then departing on a Monday or a Tuesday can get you great deals. However, if traveling domestic, then flying on a Sunday is likely to be more suitable; so as to avoid the business travel rush.
Get Yourself a Travel Insurance Policy
While you may consider buying travel insurance as an added expense to your budget, on considering the risk factors associated with travelling, you'd realize the need of it. In event of adversities, such as loss of luggage, loss of passport, or an unexpected illness or injury, the petty amount you've spent on a travel policy may save you from paying heaps out of your pocket. To get the best deal on your travel insurance policy, it makes sense to carefully compare insurance quotes online and pick the one with lowest premium and, best features and benefits.
Gain From the Shoulder Season
There is a peak season and an off season for every destination. It is natural that prices and crowd would be on a higher side during the peak season; and both, the crowd and high prices, are quite adverse for a honeymoon trip.
On the contrary, off season offers you cheaper cost and lesser crowd; thus, making it the perfect time for your honeymoon trips. This is because less demand translates to lesser prices and vice versa.
An article published at Huffington Post reveals that using mass transit is amongst the best ways to save when you're travelling in and around your honeymoon destination. While cab rides are convenient, they may hurt your pocket seriously.
So, it makes sense to do a research and familiarize with the transportation structure of your honeymoon spot. A tram, bus or a metro ride can be romantic too; you just need to have that zeal in you. Also, when travelling to a destination notorious for crawling traffic, mass transit can prove to be the quickest way of commuting.
Consider All-inclusive Stays
One of the major reasons it is advisable to honeymoon at a property that's all inclusive is that you have an estimate of all you're going to spend beforehand. This makes budgeting extremely simple. You can enjoy the worth of your money, especially, if you're a food lover.
If a property is offering a honeymoon package to you, don't just get all excited and buy it. Rather, take a look through what all is being offered and if it is actually going to save you something. Remember to look for the best package deals that offer a lot of benefits on a budget that doesn't hurt your pocket.
A six-night package for five-night price is worthwhile deal. However, if the deal offers you rose-petal service along with champagne for additional $200, then buy yourself a bottle of Italian wine and raise a toast to your smart skills.
You can of course benefit from your new marriage while on your honeymoon and enjoy some special treatment. While, any such added or special benefit is not guaranteed, but it is worthwhile to let the receptionist know that you've them to spend the initial days of your married life with. We've repeatedly heard of honeymooners getting free room upgrades and special services, such as champagne and rose petal turndown as a surprise gesture.
Over to You!
So, there you have it – 8 stupid simple tricks to plan a perfect budget honeymoon. Remember, every penny counts when you're on your honeymoon to a foreign country. So, be smart to use these easy tips in order to save sizably on your honeymoon.
Join our newsletter
Get the latest content straight to your inbox.