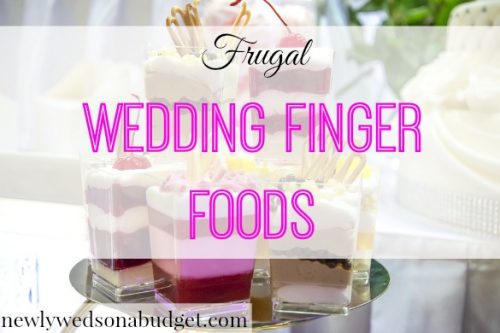 Everyone knows good food can make or break the party (along with good music). If you're having a
traditional wedding
, the food can be one of the
priciest expenses
and you want it to be tasty. While I highly recommend having a buffet dinner to
save money
, and time on feeding your guests, if your guests are going to be at your wedding for 6-8 hours, they're probably going to get hungry either before of after dinner.
This is why so many couples have extra snacks and treats at their weddings like a desserts table or a candy table. We had neither because it was pretty pricey to do for our 100 guests but they still didn't starve. We had many different frugal wedding finger foods out for the taking and out guests loved it.
If you are looking for some simple wedding finger foods to add to your menu that have an affordable price per portion, I'd recommend you consider some of these options.
Cheese and Crackers
Cheese and crackers are the most basic party food but people still love it. It's a great satisfying snack and you choose from a variety of different cheeses. The cheese can get expensive if choose pricey imported cheeses but with basic slices of cheese like cheddar, Swiss, American, and pepper jack, you can't go wrong.
You can even buy pre-made cheese trays at the grocery store and lay it out for your guests to eat. Luckily, my venue actually provides cheese and crackers to serve during the cocktail hour which was really nice.
Seasonal Fruit
Fruit doesn't have to be expensive as long as you purchase what's in season. If you have a spring or summer wedding, this can mean delicious berries and melon. It's a nice healthy snack that your guests can appreciate and you can even include a special dip with the fruit you serve. You can also purchase assorted fruit trays at your local grocery store or ask your venue or caterer if they offer a seasonal fruit package.
Popcorn
I love popcorn, so when the opportunity arised to have it at my wedding reception, I couldn't resist. At a bridal expo, I ran into a tool rental company that I used a few times to rent a U-haul truck from. I wondered why they were at a wedding event and then I realized they not only rent out tools but they rent out party supplies as well.
They had a huge list of items they rented out and they were all at super low prices like a punch fountain for $25, a wishing well for $15, and lo and behold, a popcorn machine for $40. They also sold bags of popcorn seeds with seasoning and oil for $2.50 each. I couldn't resist their prices and decided to have popcorn at my wedding all for around $65.
Popcorn is priced ridiculously cheap per portion so yes, I was able to feed 100 people a delicious snack for less than $70.
BBQ Meatballs
For the meat lovers in your group, BBQ meatballs may be a tasty hors d'oeuvres to serve. Again, you can purchase meatballs and your favorite BBQ sauce at the grocery store then warm it up in a crockpot, or you can ask your caterer to do it for you. Either way, it's cheaper than stuffed mushrooms, baked artichokes, and crab rangoon.
You can serve the meatballs on a toothpick so guests can just grab them and enjoy.
Cupcakes and Cookies
Sweets are a must at weddings. Instead of buying an expensive cake, most brides are opting to order tiers of cupcakes with a small cake at the top layer. This way, the cupcakes can still be decorated and you can even try a wider variety of flavors plus you can still use a cake topper for your top layer. It's just way cheaper for a frugal couple. While a slice of wedding cake can cost $3.50 and up, most cupcakes are only $2 each.
A new trend I noticed is mini cupcakes and we ordered some of these for our wedding. They are about half the size of regular cupcakes and great for weddings if guests would like some extra sweets or want to pop one in their mouths before heading to the dance floor. We ordered about 30-40 of these on top of the regular-sized cupcakes just to try it out at out reception because we knew all our guests wouldn't want cake and they were a hit.
If you're not going to have a sweet table at your wedding, I don't blame you. It's a risk because the price is usually so high and you don't want your guests to waste the food. An alternative option we went with was just to have cookies at our wedding. We went to Jewel and ordered about 150 cookies in 4 different flavors for around $50. No joke. At first, we wanted to use a bakery or home baker but their prices were way out of our budget. Little did we know bakeries at the grocery store charge much cheaper prices and the cookies were delicious.
Even if you want a specific dessert like pies or pastries, I'd highly recommend checking with the bakery at your local grocery store first.
As you can see, you can have a ton options for frugal wedding finger foods. focus on the cost-per-portion in order to keep the food affordable.
Which one of these foods would you be most interested in having at your wedding?