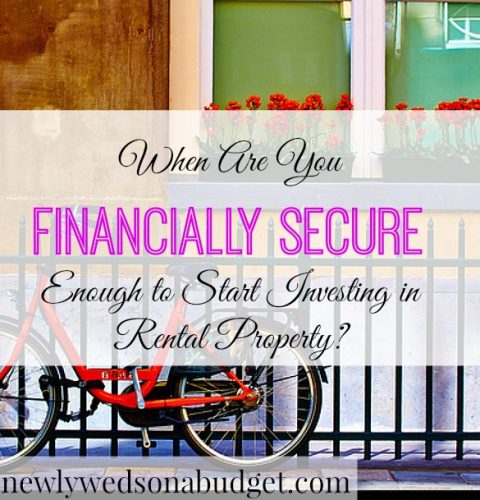 Breaking into the real estate market and investing in rental property is not an easy task to accomplish, especially if you aren't sure you are financially ready to do so. You need money for a down-payment and more money for maintenance. That can add up to a lot of cash.
So when are you financially secure enough to start investing in rental property?
1 You Don't Have to Start Out Rich
Those who are successful in the real estate market sometimes put off signals that they have a lot of money and have always had a lot of money. This leads the rest of us into thinking we must have a lot of money to even get started in the real estate business. That is not necessarily true. You can still invest in real estate and purchase a rental even if you don't have tons of investment capital. Here are a couple of ways:
Get an FHA loan – you can get a first time FHA loan with a 3.5% down-payment. That means instead of coming up with 20% for your down-payment, which could add up to a huge amount of cash depending on the property you are considering, you would need thousands less. If you don't have a lot saved up already, that could get you started much sooner than you think. But keep in mind that FHA loans are restricted to borrowers who intend to occupy the home, not for investment properties. If you want to buy a house to use as a rental, it would have to be a multi-family unit so you could occupy a portion yourself, or you'd have to live in the property for a few years before turning it into a real estate investment.
Crowdfunding – allows you to start investing by pooling your money with other people so you can all share in the profits. In other words, you don't have to come up with all of the capital needed to invest on your own. This can be accomplished through a real estate investment trust, or REIT. Several companies offer this option with very little start-up money. Once you have achieved significant gains, turn this money into your down-payment on a rental unit.
2 Find More Money
Having a greater income could be the key to gaining greater financial security and allowing you the ability to begin investing in rental properties. Here are a couple of ways to make more:
Ask for a raise – When was the last time you asked for a raise? If you are good at what you do you are valuable to your employer and more likely to get what you ask for.
Start a side hustle – Have you ever considered getting a second part time job? It doesn't have to be a permanent solution. You only need to be able to save enough to get you started.
Refinance your current home – this could be the answer to having more income each month and saving enough for a down-payment on your first rental unit.
3 Purchase Turn Key Units
Empty rental properties don't make you any money. In order to feel financially secure, it would help to know your rental is always going to be filled. That is where companies like Roofstock come into the picture. Roofstock knows your rentals need to be occupied. They can help you locate rentals in your price range and even help you manage them once you have purchased a rental property, ensuring you always have a tenant and income flowing in. They allow you to invest in turn key units, which makes investing in real estate for the first time easy.
Answering the question of when are you financially secure enough to start investing in rental property is not easy. Only you know what your comfort zone is. But if you have found a way to generate greater income and decreased the amount you need to get started with, you could be well on your way.
Based on this, are you financially secure enough to invest in real estate?
Kayla is a personal finance blogger in her mid-20s who loves to write about money topics of all kinds.