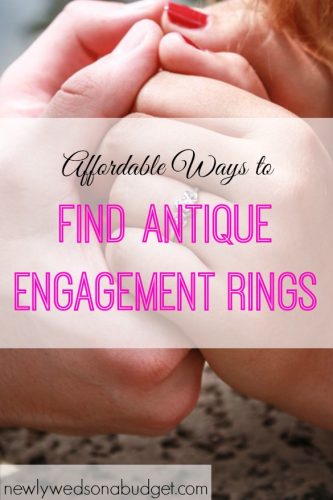 Engagement rings can be pretty expensive. I'm pretty sure finding the right engagement ring was what stressed my husband out when he wanted to propose but I always told him that it's better to spend more money on the wedding than the proposal.
There's some bogus rule of thumb out there that a man should spend three months' salary on an engagement ring and think that's just not necessary.
Engagement rings can be nice and good quality, but they don't equate how much your partner loves you which is why the cost really shouldn't matter.
In fact, you might be more in favor of an affordable engagement ring so you can spend money on your big day or in another area of your life.
Antique or vintage engagement rings can be more affordable but they can also cost just as much as a traditional engagement ring so you need to be careful. Here are some tips to consider when looking for an antique engagement ring.
Your Grandmother's Jewelry Box
Okay, so your grandmother may or may not have an antique engagement ring, but your mom or aunt might on either side of the family so you have a few sources to ask.
Some families pass engagement rings down from generation to generation so you may not have to spend much at all on a new ring. If you do get a hand-me-down ring, you can always resize it and enhance it or customize it to meet your needs. Plus, it will mean more knowing that someone you know and love once wore it.
Online
You can find pretty affordable antique rings online, but you must be careful. When you shop online, you can't really see or inspect the product close up. Plus, most rings have to be authenticated.
The Three Graces is a fine jewelry company based in Austin, Texas that sells authenticated antique engagement rings online for an affordable price. They sell rings from various different time periods, many of which are under $2,000.
They also have a no risk money guarantee which is as follows:
Notify us within (3) days of receipt for a full refund once received back.
A credit is processed the same day as received.
It is that simple! Return shipping is even free (with every purchase).
Each ring also comes with a guarantee and certificate of authenticity, gift box, and an invoice stating important facts about the ring like the stone type, weight color, materials, metal, metal fineness etc.
Just to be on the safe side, when you order an engagement ring online, you can always take it to a reputable jeweler to have it appraised so you can confirm those details as well.
Purchase a Pre-Owned Ring at a Department Store
Most antique and vintage rings are pre-owned if they aren't just designed to look antique. This fact can help you save money when choosing the perfect engagement ring. Check department stores and local jewelers to see which rings they offer.
Dare I say it, you may even want to stop by a few pawn shops to see what they have. You never know where you'll find a gem.
As always the ring should be appraised and authenticated so you know exactly what it's made of.
Explore All Your Options
Some engaged couples make plans to buy a house together on top of their wedding which is why keeping most aspects of the marriage affordable is a great idea. Antique engagement rings are unique and can be more affordable allowing you to stretch your budget.
When searching for the best ring, be sure to compare styles and options and leave no stone unturned.
What do you think about antique engagement rings?