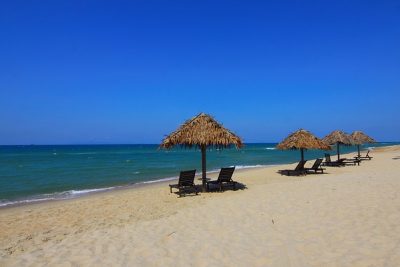 When money is tight, the thought of jetting off to exotic lands is usually the last thing on our minds. Likewise, when planning that dream wedding, and every last cent is accounted for, splurging out on a dream honeymoon is just not realistic.
Think again though. It is possible to only visit some of the most spectacular, romantic, and just downright incredible places on earth and not just do it at a fraction of the cost you thought possible, but to actually save money while doing it.
Asia boasts an incredible array of destinations, and offers something for everyone whatever their preferred style of vacation. But one of the massive advantages it has over a holiday in Europe or even the US is that it is so incredibly cheap. Of course you have to get their first, but flights aren't nearly as expensive as you may think, especially if you are willing to be flexible with your dates. Once you are their however, accommodation, food, entertainment and travel is all at a fraction of the price that you will be paying back home. I have known people who have made a net profit on a long vacation in Asia, due to the vast reduction in day to day living expenses!
So, here are some suggestions, depending on what type of dream vacation you are looking for, and don't forget, it's not against the law to mix and match!
Cities
One of the best ways to understand a foreign country is to throw yourself into the hustle and bustle of its major cities. And if it is hustle and bustle you are after then nowhere does that better than Asia. Depending on your flight, you may well fly in to Singapore. Now, despite the Lion City often being listed as one of the most expensive cities in the world, for a tourist it can be surprisingly cheap. Stay away from the 5 or 6 star hotels, designer boutiques and Michelin starred restaurants, and you can eat, drink and be merry on a few dollars a day. Singapore also has some world renowned casinos – unusual for Asia, and though it's expensive for locals to enter, if you are tourist it won't cost you a dime. The casinos feature many low cost tables, ideal for newbies or those on a limited budget, though beginners may want to swot-up on the rules, before heading to a casino.  Elsewhere, Bangkok – regarded as the hottest capital city in the world – is a dazzling mixture of hedonistic partying and jaw dropping temples, while Hanoi and Ho Chi Minh City should be on everyone's bucket list and are a brilliant introduction into both Vietnam and Asia as a whole.
Beach
As well as having some of the most beautiful beaches in the world, Asia also has some of the most unspoiled and quietest. Laying in the sun, drinking cocktails or beers for less than a dollar each, with the only distraction the sight of fisherman going about their daily life, a life that has hardly changed for hundreds even thousands of years is one of the most relaxing ways to spend a day – or a week or two – in the world. Cat Ba, in Vietnam's Spectacular Ha Long Bay, Ngapali Beach in Myanmar, the Gili Islands off Lombok in Indonesia and Cambodia's Sihanoukville really need to be seen to be believed.
Activity
Those looking for more adventurous pursuits can head to one of Vietnam's national parks for jungle trekking, waterfall climbing and encounters with weird and wonderful wildlife. Climbing Borneo's 13,500 foot high Mount Kinabalu is a rite of passage for many locals and visitors alike, while divers are spoiled to choice. Indonesia and the Philippines two among many where the warm, crystal clear waters provide pretty much guaranteed spectacular dives every time.  Finally, in my opinion, there is no better way to combine some exercise with what have to be the most amazing manmade sights anywhere on earth, than by cycling the Khmer ruins just outside Siem Reap in Cambodia.
All of these locations, will not only stay with you for the rest of your life, but can be experienced for literally a handful of dollars. A little advanced planning, avoiding high season – which normally coincides with the hottest weather as well which can also be a good thing, and you can have your dream holiday, or honeymoon, for the cost of a weekend away.
Join our newsletter
Get the latest content straight to your inbox.