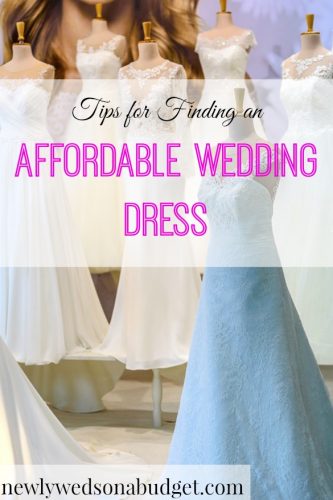 Finding the perfect wedding dress can seem like a fun challenge. That's until your leads run dry and you don't know where to look or keep coming across dresses that are well over your budget.
Personally, I think brides-to-be put too much pressure on themselves when it comes to finding the perfect wedding dress. Of course you want to look amazing and feel beautiful in your dress and there are so many different styles out there which can make it difficult to choose the right one. Plus, you have to consider how much you feel comfortable spending.
My wedding dress budget was around $500 and I found the perfect dress easily after I set that budget. Here are a few things you can do to find your dream wedding dress at an affordable price as well.
Shop the Clearance Racks at Boutiques
Just like with regular clothing, wedding dresses go on sale and clearance too. You can rack up big savings by purchasing an off-season or clearance wedding dress at one of your favorite boutiques. My wedding dress was actually on sale or else it would have be a close call with my budget since I needed to get alterations done.
Always check the sale racks first to see if there's anything you like and fits within your budget. Even the fanciest boutiques have clearance and sale racks and not just dress shops in the mall so consider all your options.
Ask Family and Friends
If you're okay with accepting a hand-me-down wedding dress from a relative, you can really save big on this expense. Some women save and preserve their wedding dress for their daughters, niece, etc. to wear on their big day if they decide to.
If you like the dress and can make some alterations to it as needed, you may not have to look far for your dream dress.
Shop Online
Shopping online is one of the best ways to find a wedding dress. You can start by looking at styles on Pinterest. Then you can search for the styles you like and see what's available online. There are many wedding dress finder tools online and on popular bridal dress websites like David's Bridal and Style Me Pretty that can help you narrow down your options.
Amazon is also a hidden gem when it comes to finding an affordable wedding dress as there are many options to choose from. My bridesmaids purchased their dresses from Amazon for only $40 which was a steal considering how nice the dresses looked.
If you're going to order a dress online, be sure to get your measurements correct and read the sizing of the dress and other details along with the return policy before you place your order.
Related: Dorothy Perkins discount codes
Rent a Dress
Finally, you can rent your dream wedding dress for a fraction of the price it would be to buy a dress and alter it. Wedding dresses can easily cost $1,200+ but by renting your dress, you can can a considerable amount of money and won't have to worry about storing the dress after your wedding since you probably won't wear it again.
You can search for local boutiques that will allow you to rent a wedding dress and see what their selection is or, you can check out sites like Unforgettable Rentals, Alexandria's Formal, Fancy Wedding Center, Rent the Runway, and Simply Bridal.
At the end of the day, try not to stress yourself when it comes to finding a wedding dress. Create a budget that you can stick to, shop different styles on Pinterest, and commit to using these savings tips.
You may not have one of those emotional moments like when brides purchase $5,000 wedding dresses on the popular television show Say Yes to the Dress, but realize that it's perfectly fine because that's not what your wedding should be about overall. Plus, your husband will think you look beautiful regardless of you decide to wear.
How much would you spend on a wedding dress? Have you ever used any of these tips to save on expensive wedding attire?
Join our newsletter
Get the latest content straight to your inbox.