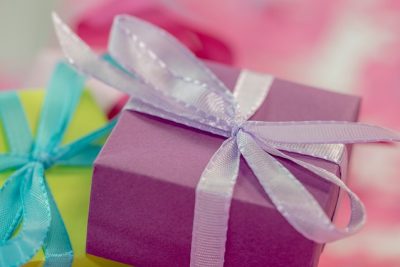 We've all experienced the horror of having to give a gift and not knowing what to get them. Be it our dad, our significant other, or even our best friend, sometimes we just aren't sure what it is that they like.
When it's your significant other, this can be a bit of a problem, because you're supposed to know them inside and out, and you can't just skip their birthday party or give them cash.
So, if it's your husband's or babe's birthday, or Valentine's Day, or anniversary, you've got to pull a good one. But, don't stress out. Here are 5 gift ideas for your boyfriend or husband.
Give him something original and inexpensive.
Inexpensive doesn't mean cheap. It means that you don't have to spend a thousand dollars – just your time and effort. For example:
Give him a massage. There are TONS of YouTube videos that can teach you to give a great massage – sensual or not. And, if he's as hard a worker as we think he is, he'll both appreciate and deserve it.
Make him heart shaped cookies or make cupcakes. There is not a man in the world that will not appreciate food.
Try a movie night at home. Download a movie that he likes, and leave it ready to go on the TV. Make popcorn and pour two glasses of wine. Then, enjoy!
A breakfast in bed is always welcome, as well, if there is time. You can look up how to cut almost any food into a heart shape on YouTube, and from there, make a beautiful plate of food with a little note and take it to him in bed.
There are places online where you can choose your personalised pint glasses, with a logo or something that he'll love. It's not expensive, and can be meaningful and kept forever.
Give him technology
Giving technology depends a lot on your budget, but it can be a worthwhile gift. It could be something very useful to have on hand, the newest update of something. Most guys will love it!
If you have a low budget, thing about some accessory for his phone – a case, protective cover or tempered glass, headphones, etc.
If you've got a mid-size budget, think about a videogame, a webcam, or a wireless speaker or mouse.
And, if you've got a good budget, you can look at laptops, a new smartphone, a GPS or an ebook.
This one is often overlooked a little, but can be the ideal gift, especially if your man is one that likes to learn about new things or enjoys the arts.
If you've got a fairly big budget, try some tickets to the opera or a musical. If you have a medium budget, you can look at concert tickets, and a lower budget may be a CD, a book, or a museum exposition that might interest him.
While you may be thinking that no man wants to get clothes for his special occasion, that's not actually true. If your man is into fashion, then perfect! And if not, he may appreciate that you are giving him something he'll look good in – without him worrying about choosing and wondering if it looks good on him. He'll probably be appreciative that you'd take the time to find something that reminds you of him.
This could be a watch, a tie, a belt, new running shoes, a t-shirt that is just his style, or his favorite sports jersey (that one is a no-fail gift!)
While it may sound counter-intuitive, a gift that allows him to go out and enjoy a night alone, or with friends may be ideal. Give him a gift certificate to his favorite restaurant or pub, buy him a six pack that's just for him, or give him a little cash to go out and spend on himself and his friends. He'll think that's just fantastic.
Join our newsletter
Get the latest content straight to your inbox.