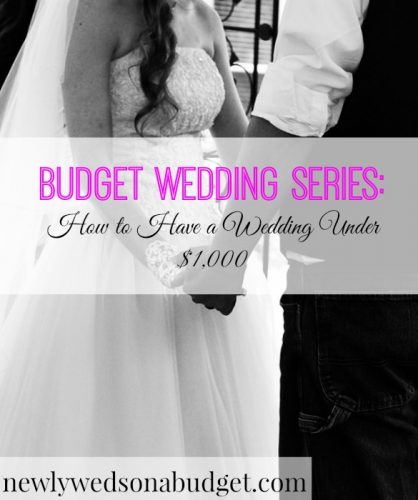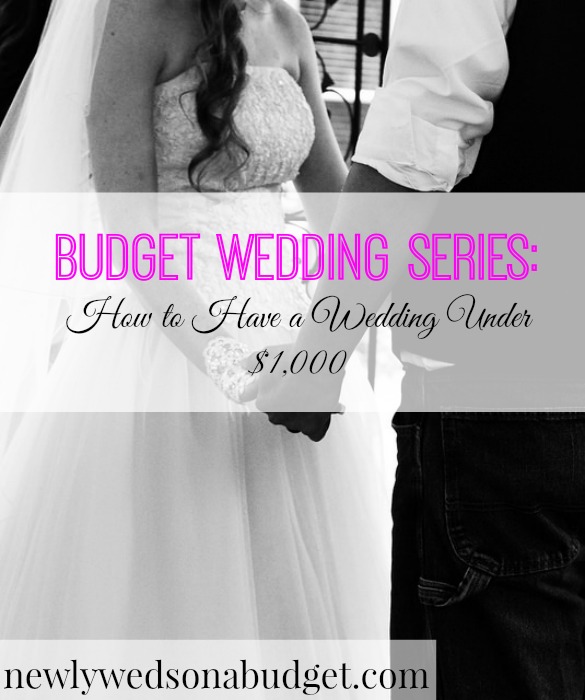 Considering an ultra budget wedding? If you want to get married but don't want to spend thousands of dollars, you can certainly have a wedding under $1,000. Last week, I showed you how to have an amazing wedding under $5,000.
This week I'm interviewing someone who actually pulled off their wedding for less than $1,000. Kimberly Studdard refers to herself as an 'entrepremomer'. She lives in Kansas City and works as a virtual assistant. You can learn more about her on her blog, but first, this interview is a must read if your goal is to plan an affordable wedding.
Since I love budget weddings and I'm always interested in how much people spend and what they spend on, I was excited to interview her to see how she pulled everything off.
Can You Give a Background Story of How You Met Your Husband and Got Engaged?
My husband and I met in college. I was a freshman and he was re-entering civilian life after being in the Marine Corps. We fell in love fairly quickly and were engaged within 6 months. He proposed to me on Valentine's Day, right after my morning shift at Starbucks. He had my sister record the whole thing.
How/Why Did You Come Up With Your Wedding Budget?
My husband and I were engaged for four years before we got married. Every year we had this elaborate plan, and every year something would go wrong and we'd have to change gears. First, it was being broke during college, then losing both our jobs in 2013, then having a baby in 2014, and so on.
We were so anxious to just get it over with, so we decided to just use part of our savings. Our budget was $1,500 at first, but we spent a total of $600 after everything was said and done.
What Expenses Make Up Your Wedding Budget (A breakdown of the $600 if you could)?
Marriage License: $55
Invitations: Free. We invited our close friends and family via Facebook and word of mouth.
Wedding Venue: Free. We had our ceremony at our church and our reception was spent at Dave & Busters.
Food For Reception: $100. We had punch and snacks right after the ceremony, and everyone paid for their own food at the reception.
Cake: $60. My sister-in-law baked a carrot cake wedding cake and only charged us for the supplies and ingredients.
My Wedding Dress & Accessories/Beauty: $48. I found my wedding dress at a thrift store for $13. My slip was $8. I wore a gifted blue necklace (something blue). My shoes were the best deal at only $9! I also spent $10 for my makeup. About $8 was spent on my DIY bouquet. It was made out of Dollar Tree flowers, ribbon, and a cute brooch. There was no charge for my hair because I did it myself.
My Husband's & Daughter's Attire: $103. We found my daughter's dress on clearance at Old Navy for around $10. My husband's tux was found for $53, and alterations were $40.
Photography/Videography: Free + $30 tip. My mother-in-law's friend took our pictures and set up our video recorder for free in exchange that she could use our photos to build her portfolio.
Music: Free. We used the church's sound system and played music from my phone.
Travel: $30 for gas to and from our place, the church, reception, and hotel.
Hotel, Fun Money, & Food: $174. We got a great deal on our hotel about three minutes from Dave & Busters for $80 (including tax). We only stayed for one night because we knew we would miss our daughter. The other $94 we spent on miscellaneous items, like food for the next morning, money for games at Dave & Busters, and other items that came up.
Were There Any Expenses You Weren't Willing to Cut?
Neither of us is very traditional, so we didn't mind cutting most things out. However, my husband really wanted to wear a tux, so we paid a little extra for his and the alterations. He spent more on his outfit than I did!
How Did You Go About Prioritizing Expenses?
We made a decision to pay for what we needed the most, and just let it trickle down. Why pay for invitations if we only have 25 people at our wedding that we are Facebook friends with? Why pay for a bunch of food when we all wanted to go out to Dave and Busters and drink and have fun?
Did You Receive Any Backlash From Friends and Family About You Wanting to Have a More Affordable Wedding? If So, How Did You Deal With It?
My parents had huge issues with it, but we don't have a great relationship so that was to be expected. In the end, they didn't come. If other people had a problem with it, they didn't really say anything. If they would have, I would've said cough up some change or let me plan the way I want to.
What Did You Love About Your Wedding?
I loved marrying the love of my life and having my daughter there to witness the whole thing. I loved having close friends and family there on our special day. My best friend and her mother and sister drove 14 hours to come to the wedding, and her mother walked me down the aisle. It was amazing!
What Are Some of the Benefits of Having a Wedding Under $1,000?
NO DEBT! We don't owe anything to anyone, and it's an amazing feeling. We got to enjoy our day and don't have to worry about paying for anything in the years to come. It also showed us how truly blessed we were because we had people come together to help us out and keep our budget intact. We didn't have to spend a ton of money and get into wedding debt to have fun and celebrate our new marriage.
What Tips or Advice Would You Give Someone Who Wants to Have a Wedding Under $1,000?
Get as much help as you can! If anyone has talents, use them, because it can make a huge difference. Just don't forget to return the favor.
For example, I got free pictures but still gave a tip and told the photographer that she could use our photos for her portfolio.
Same thing with my sister and law. She baked my cake but I paid for supplies and sent her another bride to be looking for someone to make her cake.
Also, don't try to please everyone. The day is about YOU, not them. It hasn't even been an entire year for us and we don't remember the entire day. we're glad we didn't spend a small fortune and stressed over something that we really won't remember down the road.