Old enough to remember hunting for paper coupons in an advertising circular? That's so 1999. Now apps can streamline shopping by helping consumers save big bucks on everything from big-ticket products to stuff that's on the weekly grocery list. These apps were designed to make sure shoppers never pay full price again. Here are the top seven best deal-finding apps and websites to add to the favorites list for 2018.
#1 Shopami
Shopami offers consumers a free mobile app to consolidate all emails, coupon offers, promo codes, and general deals into one organized electronic pile. The app organizes all the deals so that the user never misses out on a coupon that's expiring. It's got the highest rating possible (five stars) on AppAdvice, which isn't too shabby when you consider the competition in the app marketplace.
Shopami works when the user links an email where they receive coupon deals. Shopami has a geolocator so when the consumer is in a store where there's a coupon available, the app sends the discount to the user's cell phone. Shopami supports more than 100 major brands, making it a great on-the-go shopping app.
Users can sort deals by expiration, by geography, or by favorites. This is a must-have app for the holiday season to help keep shoppers more organized while saving the big bucks.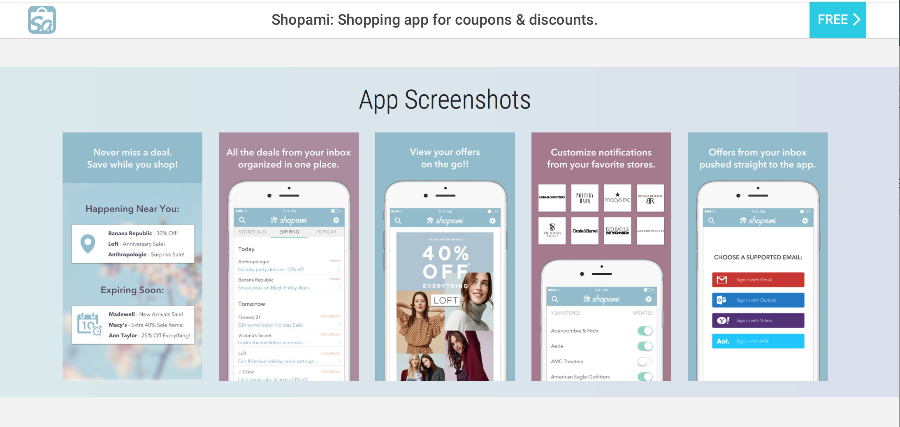 #2 Raise
Raise is simply the best way to buy gift cards. That's because the website and app offer an online marketplace for consumers to sell gift cards at bargain prices. Buyers can pick from more than 3,000 brand name gift cards, while sellers can get cash back on unused gift cards.
Raise has four out of five stars on TrustPilot, and SiteJabber also ranks the app high for customer service. New users should note the one-year money back guarantee; if consumers have problems using the cards they've purchased, Raise backs them up 100%. There's also free shipping and it's free to sign up whether buying or selling a gift card.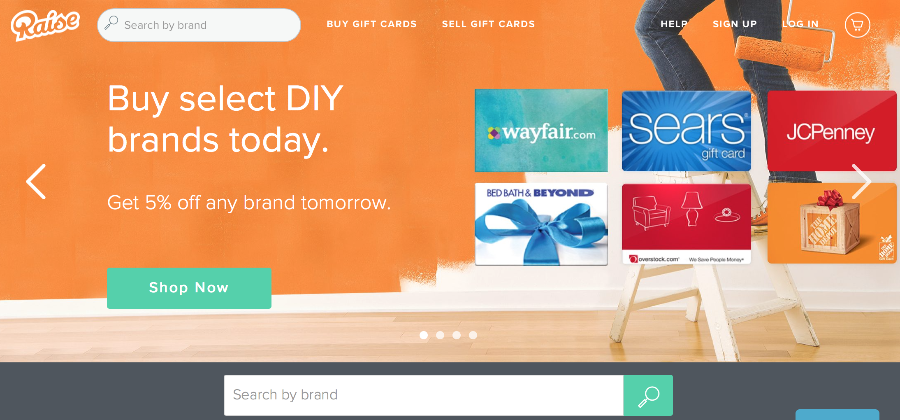 #3 Dealspotr
One of the best things about Dealspotr is that it's a time saver. It would be a full-time job to hunt down all the coupon codes and discounts and apply them to every online shopping trip. Dealspotr is a community of people that not only find the deals but also check the accuracy of the coupon codes out there — something that is a constant frustration for online shoppers.
Contributors to the site are called "influencers" and the deals posted are valid — or the site rejects them. This makes for a trustworthy and efficient site, perfect for this holiday season and into 2018.
Dealspotr offers a variety of categories for deals, including a trending and "on fire" page, which culls the best bargains and places them right up front for shoppers to grab. From buy-one-get-one to percentage off deals, to free shipping, Dealspotr has a wide selection of bargains.
Users can personalize the experience by following influencers that have the best deals or create a newsfeed of favorite brands. Dealspotr makes shopping more efficient and saves customers big money and time.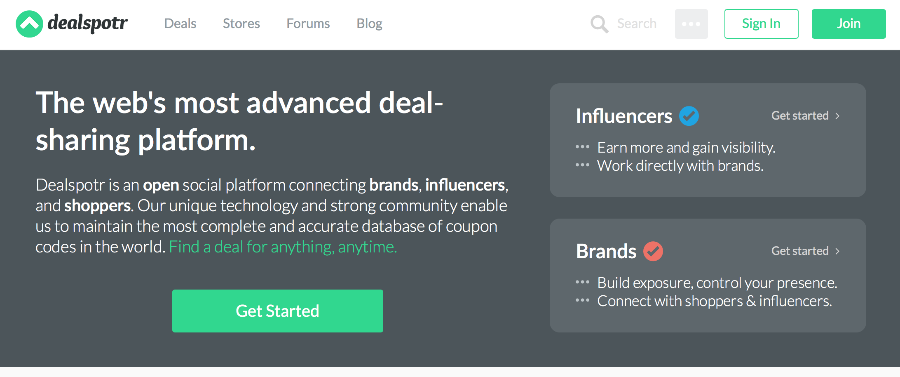 #4 Shop Your Way
Regular shoppers of the Sears brand of products will appreciate the lucrative Shop Your Way rewards program. The basic program earns shoppers 10 points for every dollar spent, but using the mega-retailers credit card can earn even more cash back. It can also be linked to a free shipping program called Shop Your Way Max. Together, these programs offer considerable savings in the form of a cash back refund at the end of the year. Shopping at Sears and the Kmart brand of stores can encompass everything from clothing to big equipment, so this is a must-have app for saving across multiple purchase-points in 2018.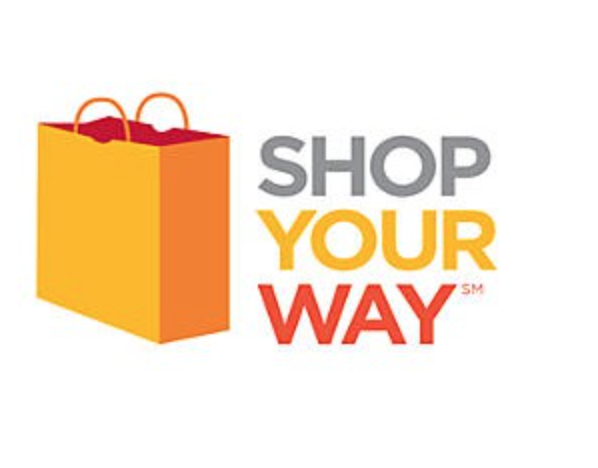 #5 Flipp
True story: Consumers are flipping out over Flipp. That's because Flipp takes all the store circulars that can clutter up a coffee table, and turn them digital, making for an eco-friendly, organized weekly shopping excursion. Flipp is a free app that can search advertisements, select and clip coupons, and alert the user when new deals are released.
Digital coupon clipping is a lot faster than the old-fashioned cut and file. Users can scroll a circular then tap what they want to clip. Tapping and holding opens the coupon for better detail. Flipp groups everything needed into one pile by store or another category.
There's also a percentage slider at the bottom of the screen. Users can select the percentage discount wanted, and the app will find all the items offered at that discount level. Flipp even lets shoppers make a list by typing in the items wanted. Then the app will search local stores for the best deal. This is a surprisingly simple app that has 4.5 stars on AppAdvice, proof that this program will continue to help consumers get the best deals in 2018.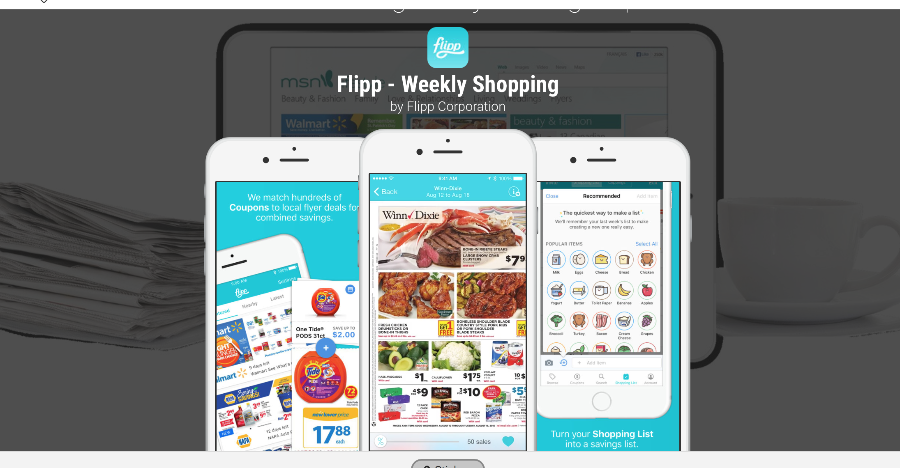 #6 SnipSnap
Consumers that are notorious for leaving the shopping list and the coupons at home will love SnipSnap. With this app, shoppers can take pictures of coupons which the app converts into scannable barcodes. It's a social site, so once a coupon is uploaded, anyone can use it. The SnipSnap coupon app has 4.2 stars out of 5 on GooglePlay and 4.4 on iTunes. SnipSnap is a simple way to skip piles of paper coupons and simplify the next grocery or shopping trip.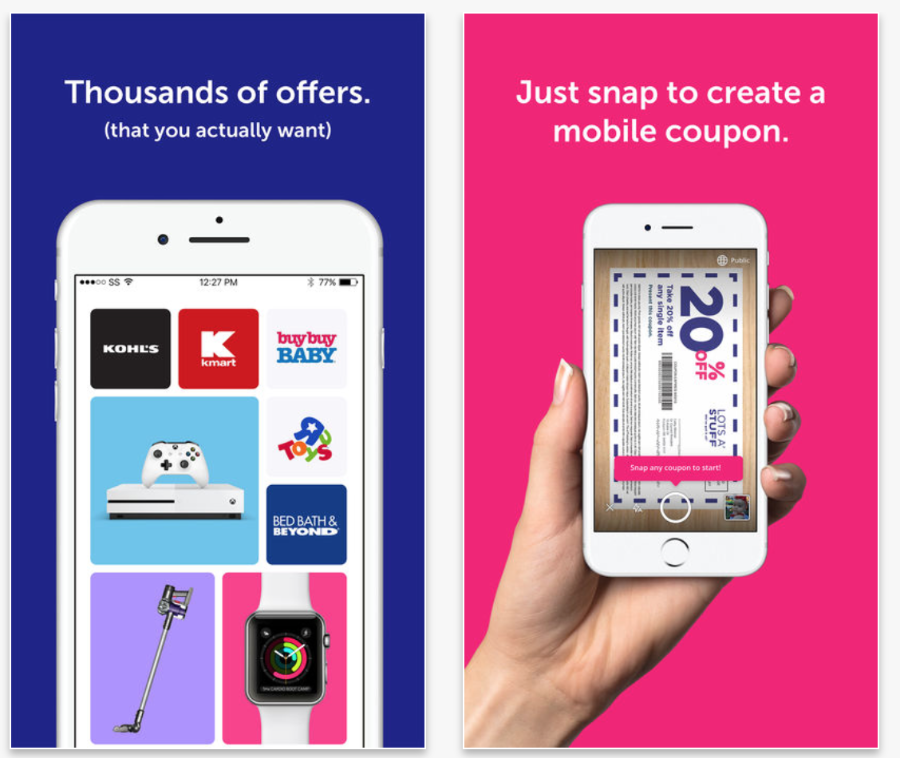 #7 Savings Catcher
NerdWallet says, "Savings Catcher is an easy, practical way to potentially save on everyday Wal-Mart purchases." That's a good point but with two caveats:
Savings Catcher is a savings generating tool for in-store Walmart shoppers.
The savings comes after the check out is over.
Here's how it works: Savings Catcher is a nice app that helps Walmart hold the title of the #1 bargain store on the planet. After shopping, consumers use this app or the Savings Catcher website to scan or plug in the shopping receipt number. The Savings Catcher app does the rest, searching nearby stores for any deals that are better than what the shopper already paid. If one is found, the money is refunded into redeemable rewards dollars.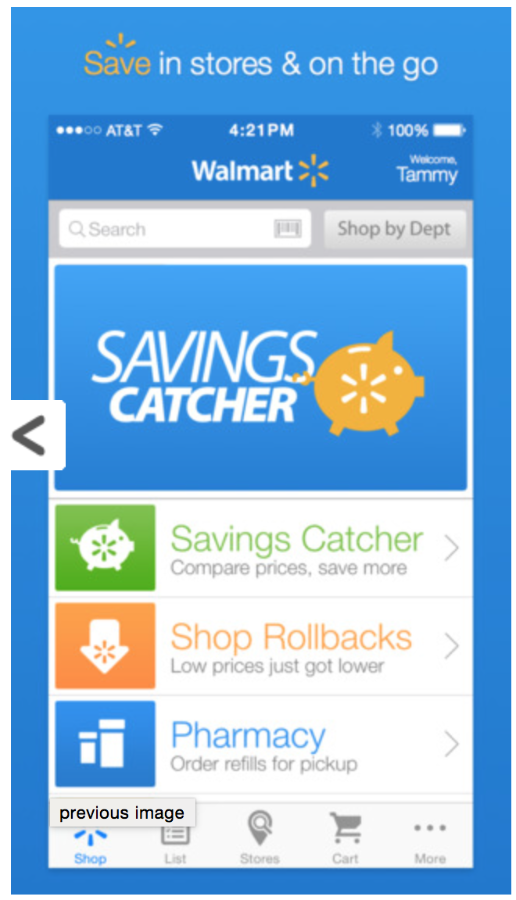 2018 The Year of the Consumer
These apps and websites are the lucky seven when it comes to saving money in 2018. All are effective ways to ensure that families will come out ahead next year. Whether it's organizing coupons for a more effective in-store experience, or making sure the coupon code will work at online checkout, these apps are geared toward the American consumer and the quest for great deals. Here's to better bargains for everyone in 2018!