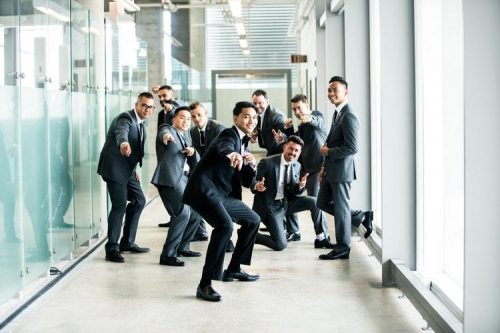 It is already a given that bridesmaids and groomsmen will have to shell out a substantial amount of money when attending a wedding. Gone are the days when the bride and the groom shoulder the wedding attires for the entourage. Nowadays, it requires time, money, and effort to show love and support to a lifelong friend or family member.
Although girls seem to have more things to buy, what with dresses, shoes, jewelry, and the like, it is surprisingly different, according to a survey conducted by GoBankingRates. As it turns out, groomsmen actually spend more than the bridesmaids do.
How did this happen?
The Wedding Attire
Men's attire can be rented or bought. Some groomsmen prefer to rent, although there are a few problematic experiences when the suit is one size bigger. Others choose to buy, because, that way, they can use it for another occasion especially if there are more weddings coming up.
While bridesmaids spend an average of $214.58 on a specific dress, the grooms' tuxedos cost them an average of $245.50. That is outside all the other accessories like tie, shoes, socks, and cufflinks. It will be a lighter burden if the groom volunteers to pay half of the rentals, but most groomsmen are willing to shell out since they agreed to be there in the first place.
The Prewedding Parties
It is not uncommon to know that stag parties are quite expensive. Any type of party will cost a substantial amount of money. But in this case, the groomsmen are outspending their women counterparts again. The average expenses, including those for travel, food and drinks, and entertainment, can amount to $445.92, while the bridesmaids spend $386.89.
A bulk of the expenditure also comes from plane tickets or gas and overnight accommodations. It is also observed that men choose pricier venues like casinos or bars. They usually go out to have drinks, and they can get carried away. A strip bar is also a usual late-night destination.
The Wedding Gifts
Bridesmaids tend to give two gifts for the couple, but their gifts are usually inexpensive. Women usually make the thoughtful kind—a DIY that will not cost them a lot. Many of them spend $50 or less. The groomsmen, on the other hand, are not into traditional wedding gifts. They prefer giving money instead of buying one. Hence, they spend more. In the survey, 30 percent of the groomsmen spend $200 on presents.
Attending a wedding can be a headache to those who are not financially stable. Most people agree to do so because of love and friendship. If one wants, convenience, it is tempting to simply spend and relax. However, if one wants to curb unnecessary expenses, then practical measures must be taken.
Think about It
Groomsmen and bridesmaids should weigh in their best options. They can make smart choices when it comes to their clothing, accessories, and gifts. It also pays being upfront to the bride and the groom. Most of them will understand and are willing to shoulder half of the cost.
No matter how costly and tiring it is, groomsmen and bridesmaids fulfill their duties in the name of love and friendship. It is a testament to their bond with the bride and the groom. That is why it is a common courtesy for the couple to set aside a budget for their entourage.
The bride can take care of the gifts as a sign of gratitude to her bridesmaids. The groom can also look for awesome groomsmen gift ideas to show his thanks and appreciation. A thoughtful yet practical token can go a long way.
Photo URL: https://unsplash.com/photos/V7WJpTmNXjU