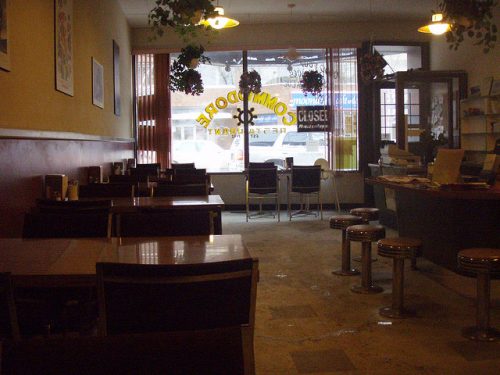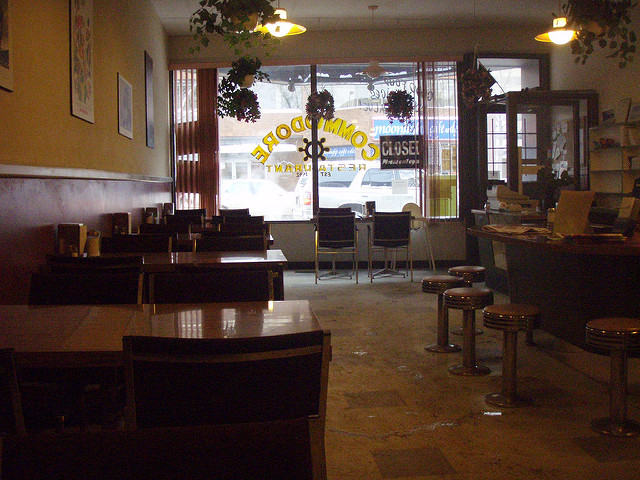 'Commadore REsturant ' – Anthony Easton via Flickr (CC BY-SA 2.0)
In recent months, plenty has been written about the eating habits of 'millennials'. According to recent studies, millennials eat out at restaurants more than any other generation. The suspected rationale behind this is that many young professionals today have little time to prepare food, which has pushed up the popularity of pre-prepared meals.While some see this current trend as frivolous and lazy, this is a necessary shift in the market. In today's fast-paced world, few of us have time to invest in the prep it can take to make a proper meal. Millennials are also far more health conscious than the generation before them which has lead to the rise of the fast-casual food industry which is poised to overtake the fast food industry in popularity. However, there are certainly economic benefits to cutting back on dining out and if you are looking to cut back some costs, dining in may be the way to go. In fact, there are a number of ways to cut the costs such as the following. Below is a list of compiled tips on staying in and cutting back on some unnecessary costs. 
Preparing your own meals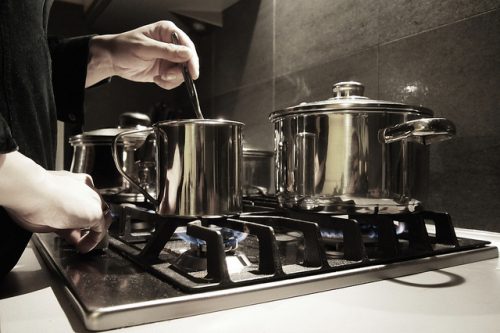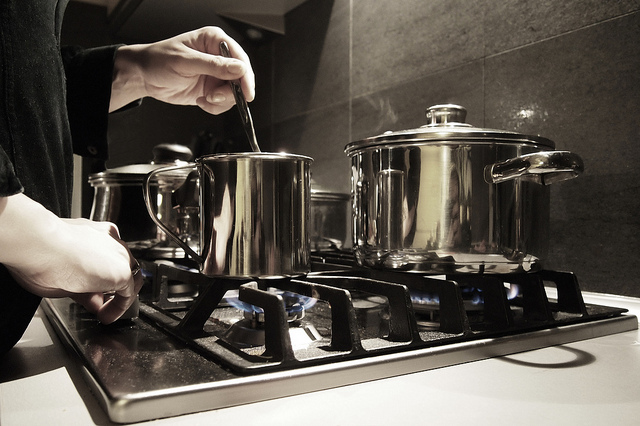 'Cooking' – Damian Siwiaszczyk via Flickr (CC BY-SA 2.0) ​

Even when they stay in, millennials tend to spend the highest amount of their food budget on pre-prepared food. Although it can be hard to find the time to pre-prepare food, there are clear economic benefits to putting some time into prep. Ingredients in their raw form are almost always cheaper than already-prepared options, so if you can find the time, buying unprepared foods is the smartest economic choice. Many sites have lists of copycat recipes, which are a good way to get your hands on restaurant quality dishes without actually going out to a restaurant. If you do want a break from cooking, there are ways to make ordering in an economical option. As previously mentioned, many restaurants now have delivery options, and the food is often better quality and healthier than the food found in fast food chains. Buying all of your dinner in advance cuts down on the risk of impulse buys, and being at home means you are less likely to be spending cash on things like inflated drinks prices. Ordering with friends is a good way to cut down on delivery costs as the more people you share with, the lower the split cost of the delivery will be. If you enjoy eating with friends, potluck dinners are also a great way to cut down on food bills. 
Avoiding expensive activities
Even if you aren't dining out, going out can often still empty your wallet. One key technique for cutting back costs is hosting more events at home. For example, if you often meet your friends for coffee, try hosting a coffee date from home. Similarly, many recreational activities often have cheaper online alternatives. For example, if you are a poker fan there are not only a large number of online casinos but also sites that will show you the best deals and bonuses. If you do want to go out, however, there are many sites that profile the free activities in your area. Another cost-cutting measure is to plan well ahead. Buying in advance is often cheaper and will help you avoid any extra added costs. 
Streaming services 
Going out to the cinema can be very expensive, and even if you stay in television packages can also be quite expensive. Luckily this technological era has given way to a number of streaming services that give you access to a wide range of media at a fixed cost. Services like Netflix and Amazon Prime have a wide range of films and shows for consumption. However, we'd advise shopping around a little to see which service is most likely to carry the content you prefer. For example, if you are a fan of superheroes, Netflix may be your preferred service as they have a deal to produce Marvel-Netflix shows. If you are a fan of independent cinema, Amazon studios has been acquiring a number of independent pictures like last year's Oscar-nominated The Big Sick. Different streaming services tend to have very different distribution deals which is important to keep in mind when picking a service, however many of them come with free trials which will let you try them out and see if their service is the one for you. 
Do you plan to incorporate any of these tips? Do you have any tips to share? Let us know, down below in the comments section.