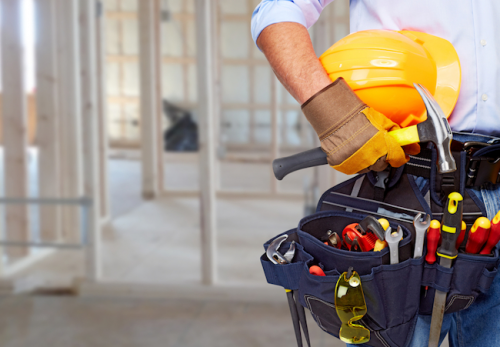 Home improvement projects can be of almost any size and expense. They run the gamut from a simple storm door replacement to the installation of a custom designed in-ground swimming pool. Though the scope of your home improvement project can vary in size, a common denominator in all projects is that there will be a financial cost involved.
Small projects are usually handled with cash and may often be performed by the homeowners themselves. Larger, more complicated improvements, or tasks that need specialized skills usually require the homeowner to employ a contractor. In many cases, larger projects also involve obtaining financing.
According to homeadvisor.com, up to 75% of home improvement projects require some kind of financing. While there are a number of different ways to finance a home improvement, one method that has potential benefits to both the homeowner and contractor is the use of contractor financing.
Let's take a look at some of the benefits of using this type of financing, both from the contractor's point of view and that of the homeowner who needs to finance their project.
1. Increases Sales Closing Rates
You should consider financing that can be offered by the contractor as a vital component of your sales toolkit. When your customer approaches you for an estimate for their specific project, they often have a general idea of what it may cost. Very often their estimate may not conform to reality, and the price will be more than they had anticipated. At this point, you may be at risk of losing a potential sale.
If you can offer your customer a financing deal with attractive rates and payment terms, there is a greater likelihood that you can close this deal successfully. You will give your potential customer an option that they may not have considered, and eliminate the need for them to look elsewhere for financing.
The fact that you can perform the work your customers need as well as provide them with a way to pay for it on good terms will set you apart from the majority of contractors who do not offer financing. According to replacementcontractoronline.com, only about 9% of jobs are paid with loans financed by the contractor.
2. Expands Average Job Size
The size of your jobs can increase substantially if you offer your customers an option to finance their project through you. This factor is related to the ability to close the sale in the first place, and your potential customer's expectation on the price of their home improvement plans.
The ability of your customer to easily obtain financing through you can make the difference between doing the job with the least expensive materials or going for top-of-the-line components. It may also be a contributing factor in your customer deciding that they can go for a larger project than they had first imagined. In both cases, this can result in a positive impact on your bottom line.
3. Guarantees Payment for Your Job
Helping your client obtain financing eliminates any risk that you will not be paid for your hard work. You get your money up front, and you do not have to worry about scheduling or collecting payments as the work proceeds. Besides the peace of mind that this should give you, it also enables you to better control your business' finances.
Running a contracting business can be a complicated undertaking, and anything you can do to alleviate complexity and additional paperwork will just make your life easier. Eliminating the need to chase down payments lets you concentrate on finishing the project in a timely manner.
4. The Financing Process
As a homeowner who is considering a major home improvement, you have a number of important decisions to make. You need to decide on the scope of the project, when you want to have it done, and the contractor that you will hire to perform the work. In many cases, you know going into discussions with your potential contractors that you will need to obtain some type of financing in order to pay for the work that you want to be done.
There are options available to you, such as home improvement loans or home equity lines of credit that you can use to finance your project. These can involve extra paperwork and waiting time as your application goes through the various approval steps. A much more streamlined alternative is to take advantage of contractor financing if it is available. You may even want to insist on using a contractor that offers a financing option.
The interest rates on contractor financed loans are usually competitive with other options, and let you get everything done at once. You can schedule your job and have it paid for by financing with the same contractor who will complete your home improvement project.
5. Enables Larger Jobs and Better Quality Materials
Using contractor financing can lead to your decision to add an extra room to your painting plans, or to upgrade to a higher quality flooring material when turning your basement into a recreation room.
You may have budgeted a certain amount of money for your project, but in discussions with potential contractors realize that to do the job in the best possible way will cost more than you had thought it would. At this point, you can insist on sticking to your original budget and making whatever compromises that entails.
Another option would be to finance any additional capital required to deal with the price of better materials or an expanded scope of work. It will be easier to get exactly the financing that you need through your contractor if they offer that service.
Conclusion
As you can see, there are benefits to be had on both sides of a home improvement project by using contractor financing. As a contractor, if you do not offer this option to your customers, you are likely hurting your business. Customers should look for contractors who can help them get their project completed by removing the complexity of obtaining financing.
Was this article helpful and informative? Leave us a comment with your thoughts in the section below.